Custom wording
Custom wording helps to make Small Improvements fit in nicely. If your company has called it "peer feedback" forever, then there's no point using our standard term "360° feedback". This document explains how to approach the custom wording and what to consider.
When applying customized wordings, most of our customers decide to change the name of one of our main features: Messages, Performance Reviews, 360° Feedback, Praise, or Objectives. You can easily rename each of these modules. Moreover, there are some further wording customization options in the Messages, Performance Reviews, and 360 Degree Feedback features.
To get started, click Settings > Custom Wording
Click the feature you wish to customize to see which fields you can change.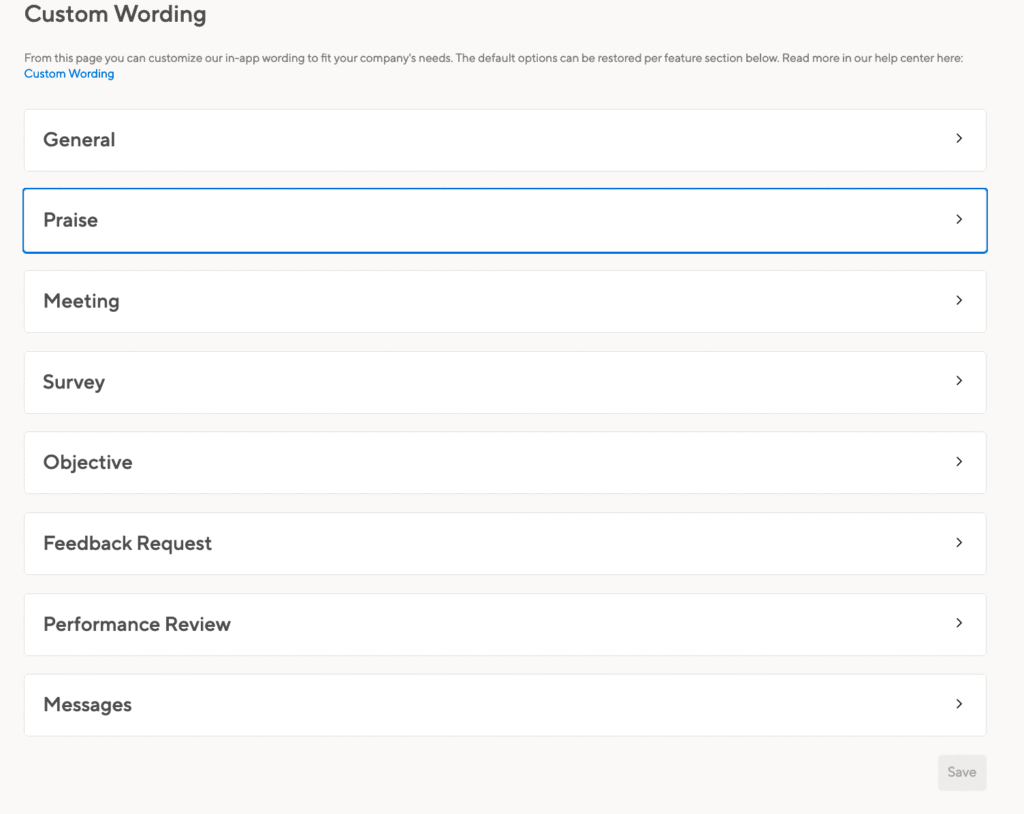 Expanding the section displays several fields to be customized. These correspond to each instance of that label throughout the app. We recommend updating each instance of the label with your desired term.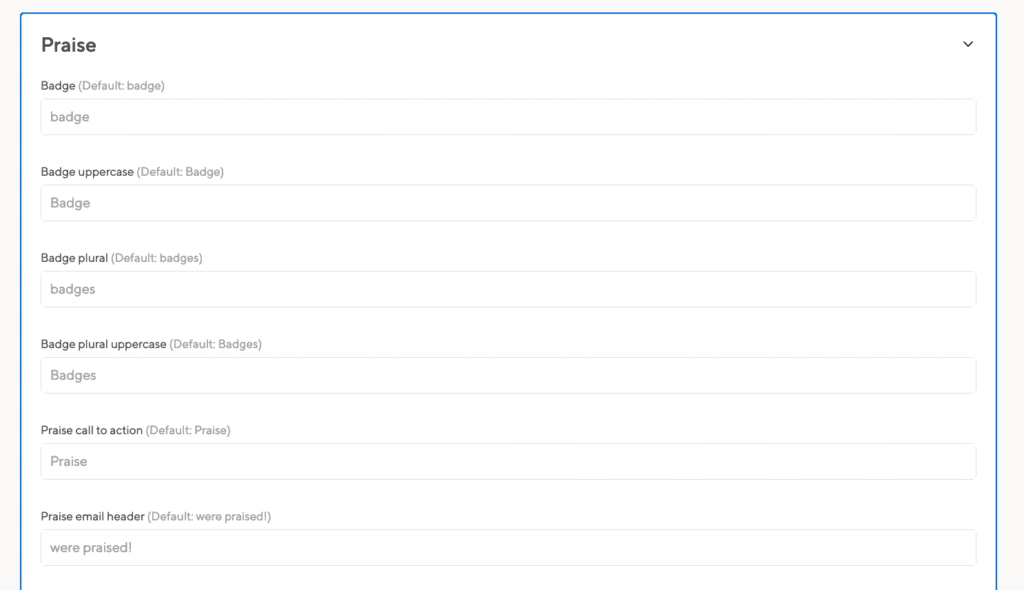 We give you a bit of context so you'll know how the label is used. You'll need a singular and a plural form of your term.
When you're ready, click the Save button at the bottom of the page. You'll see your updates immediately.
If you've made a mistake, you can easily revert back to the original wording: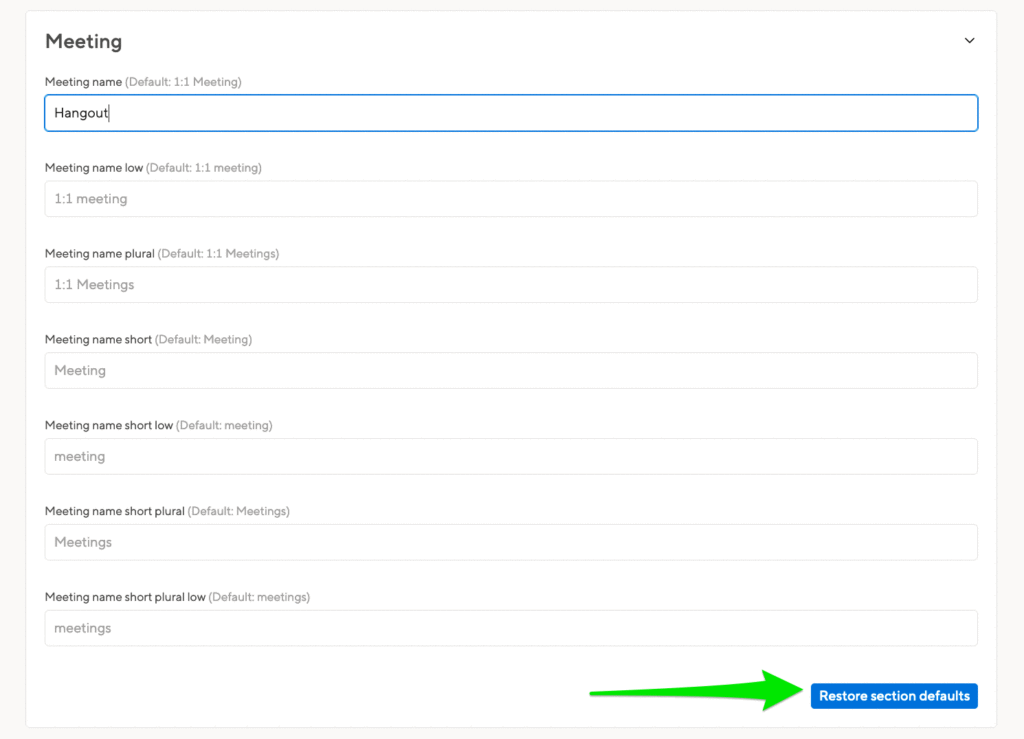 In addition to changing the feature names, you can also update "HR", "Manager", and "Report." You'll find those in the General section.

Note: "team" is a special case. Customizing "team" only replaces references to the Team field in the user profile and Team column in the company directory and overview magic columns.
Things to consider
Whenever you want very specific terms, please keep in mind that your terms have to work in many different ways.
So, keep these things in mind when you come up with new ideas for terminology:
Space is limited on the user interface. So we usually have two forms, short and long, for each term. For instance "Performance review" is the default name, but we only call it "review" when space is limited, for instance in the menu.
A term needs to work both in singular and in plural form. "Here are the performance reviews you need to sign." If your company internal name for performance review is "performance information" then it is likely to call the plural form "performance information" as well. Then the sentence would be: "Here is the performance information you need to sign."
There is no sense in renaming "objective" to "your objective". Think about your customized wording in the context of a sentence.
If you are able to find any wordings which didn't get replaced by your customization, just let us know.
Custom design
You want staff to enjoy the look and feel of your performance review system, so we've provided a few custom design options to reinforce your company identity.
To explore what is available to you, navigate to your Settings page and click the "Design" button: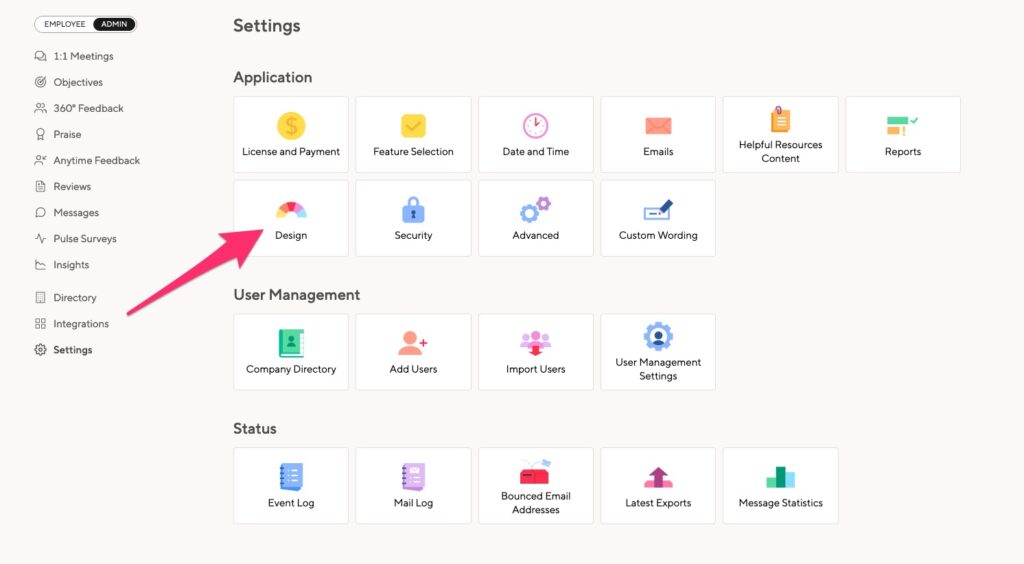 Logo and color accent
Swap our logo with yours to have the platform feel a bit more native for your team. You can resize it a little, and watch it update immediately.
There are subtle color accents throughout Small Improvements and with our custom design ability, you can get them to reflect the scheme that aligns with your branding.
Either drag either of the two sliders to find an approximate color compliment or enter in the exact HEX code you wish to use! You will see your changes reflected in small ways throughout the tools.