A deactivated user cannot access your account, but their records and information will be retained. You can always access their historical information, and you can even reactivate a user's account. Deactivated users do not count towards your license total.
Deactivating users
You can deactivate users from the Company Directory screen: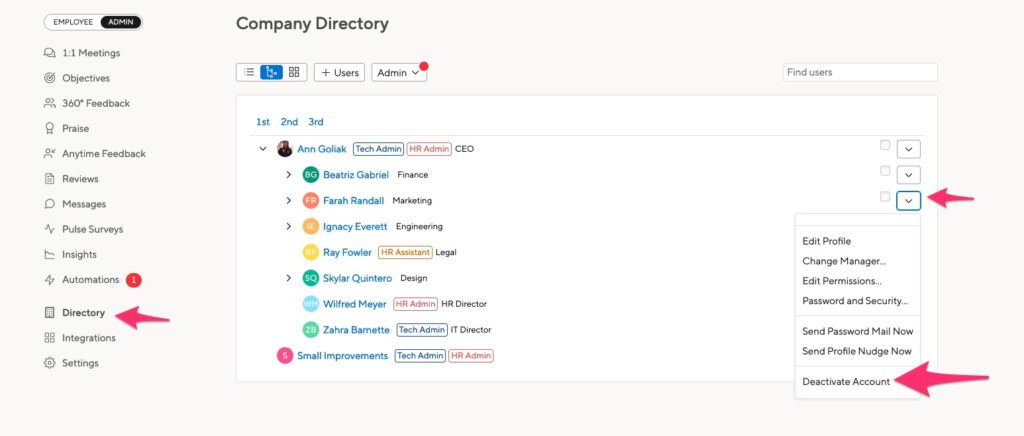 You can also deactivate users in bulk by inputting the 'shift' key on your keyboard and selecting multiple users at once: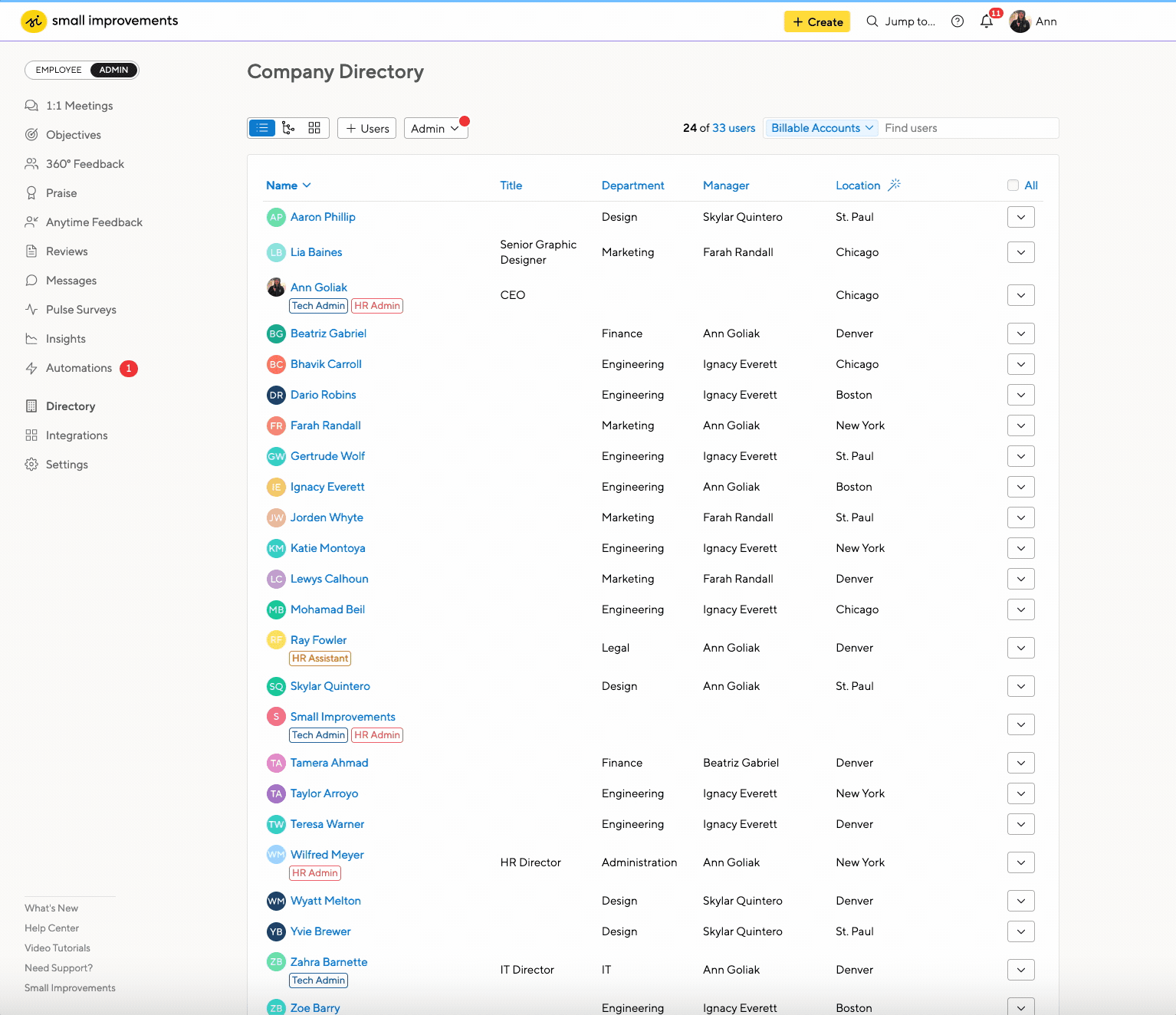 You can also deactivate employees in bulk using an import file.
Finding a deactivated user's content
Go to the company directory and filter for deactivated users: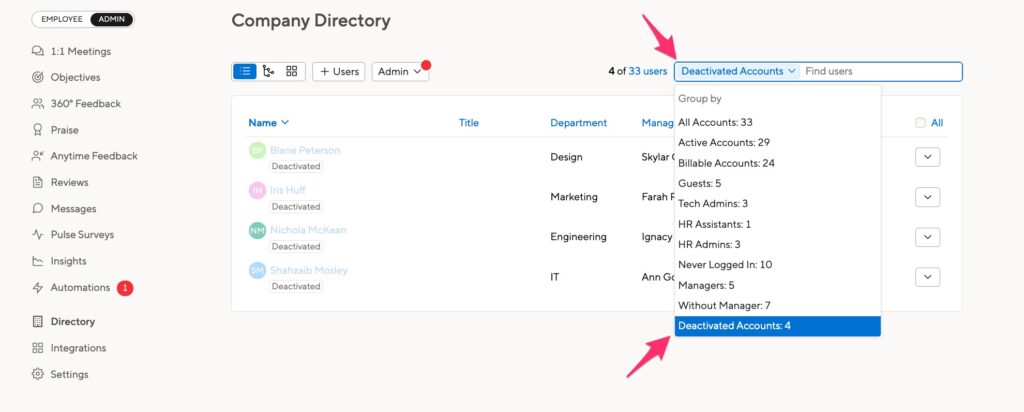 Then click to the employee's profile to review their historical information: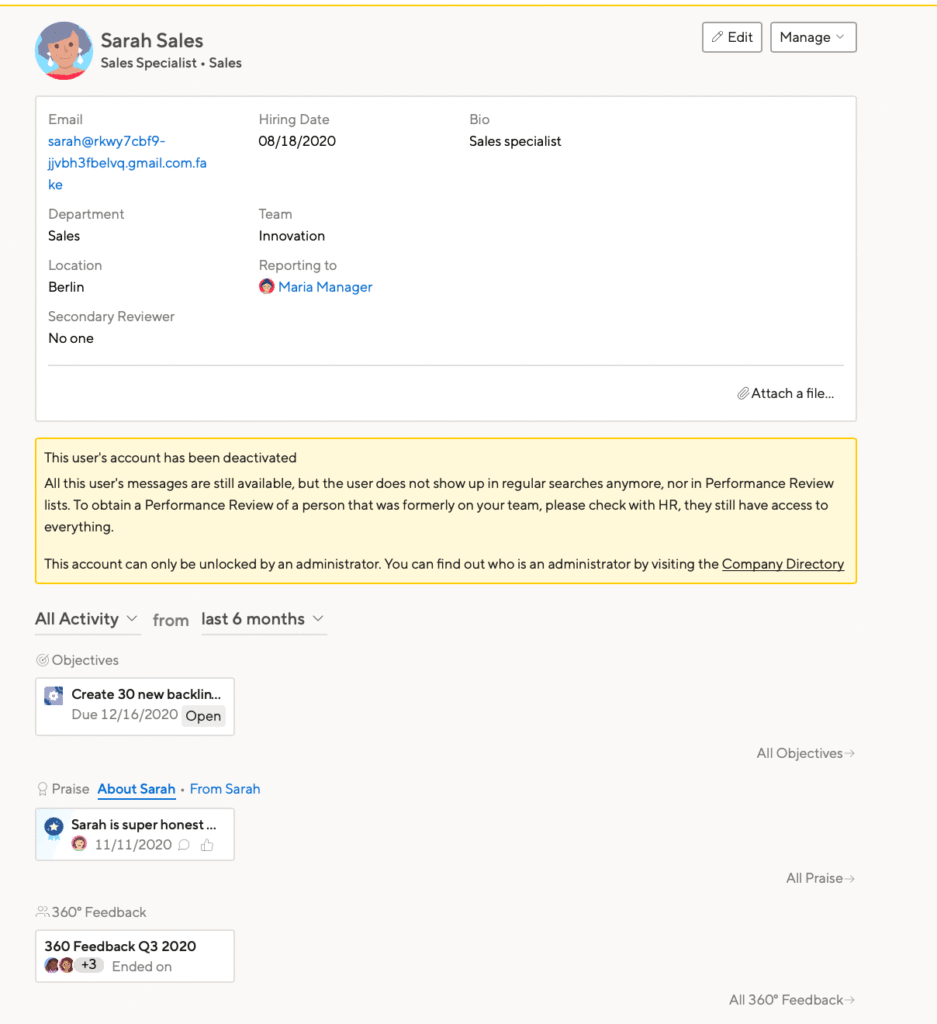 Reactivating a user
To reactivate someone, first go to your company directory. The default view is "Billable Accounts". Click that menu, then select "Deactivated Accounts."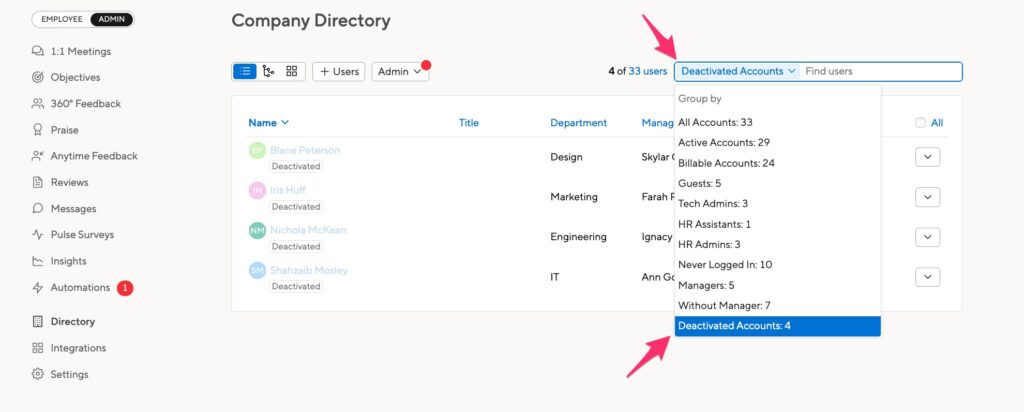 Once you have your list of deactivated users, use the menu on the far right to reactivate.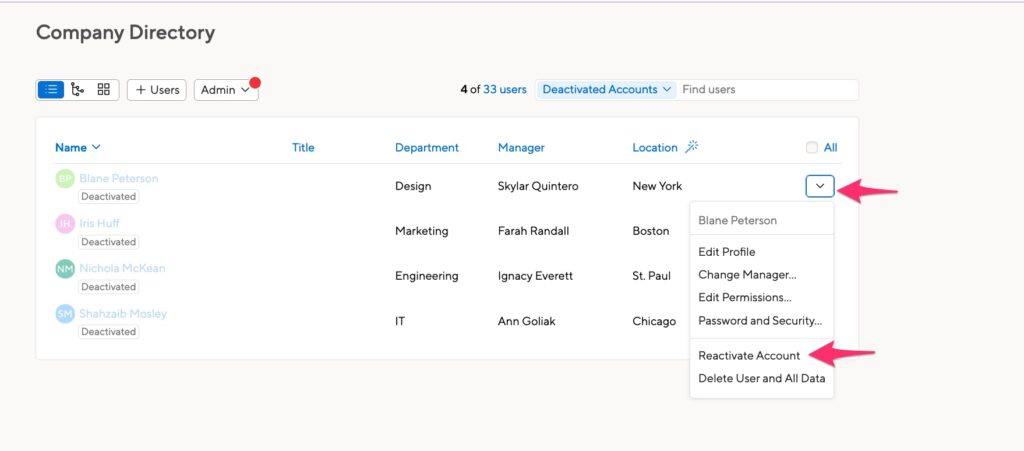 You can also reactivate employees in bulk using an import file.
Note: once that person is reactivated, click "Password and Security" to send them a password email.
Merging users
To merge two user accounts, start by going to the profile of the person you'd like to merge. Select the Manage button and "Merge into other users" from the drop-down options.

Next, look up the destination account in the right-hand search field. On this screen you can review the data that is going to be merged. The source account will be deactivated.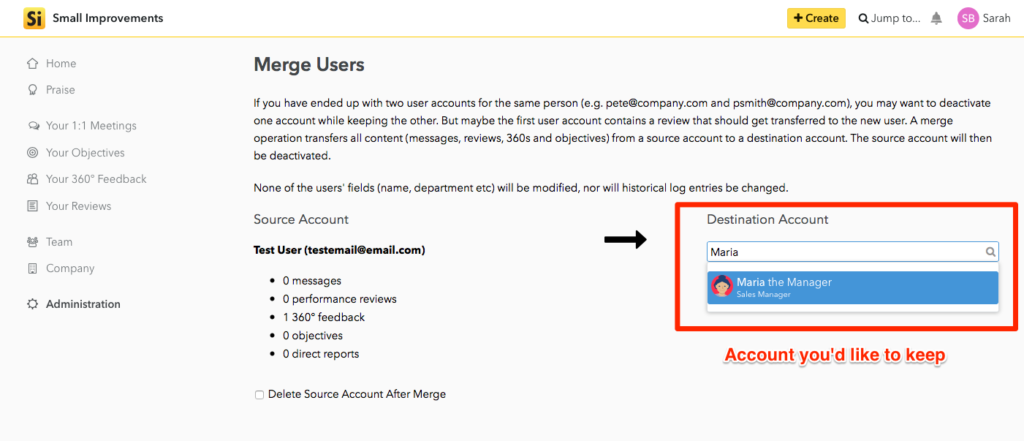 We do not recommend deleting the first user account. That account will be automatically deactivated, and not count towards your license total.
Once you've selected the destination account, you can merge the two accounts and confirm.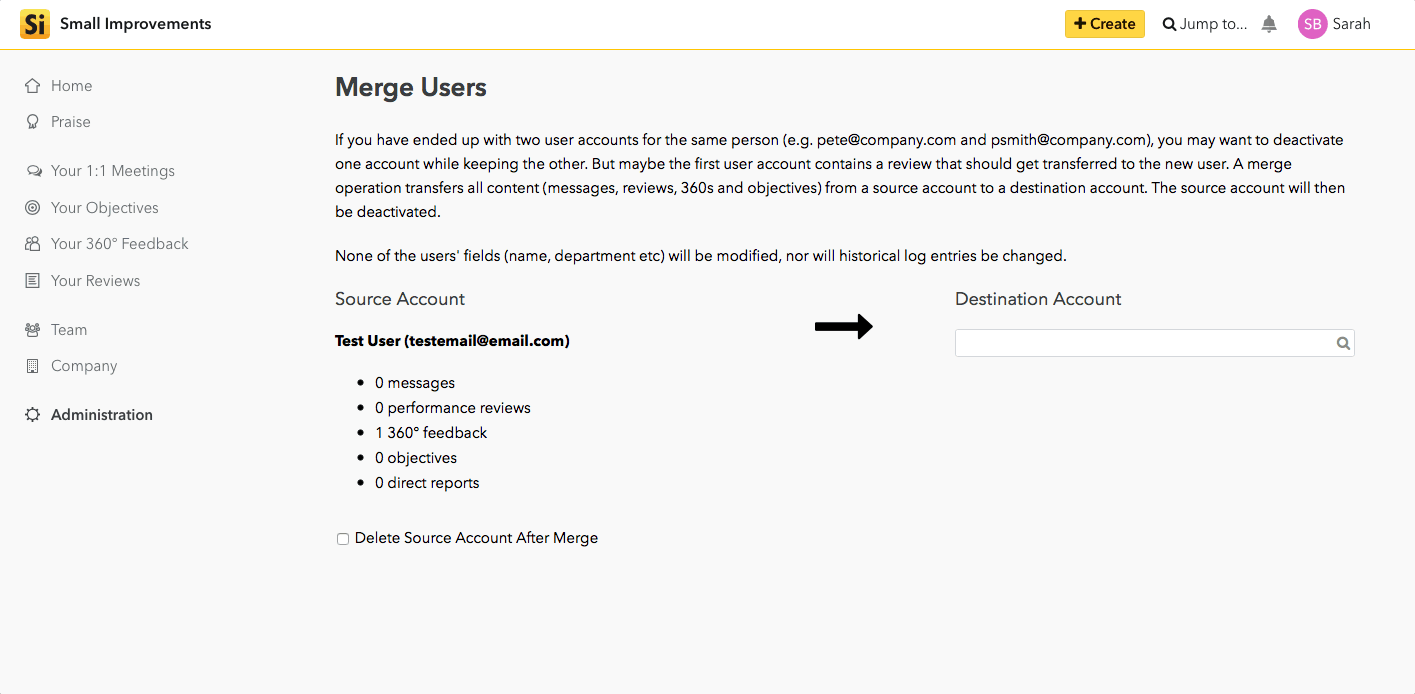 Deleting a user account
When a user is deleted, their records and information are completely erased in our system. Deleting a user is an irreversible action; their data cannot be restored by our support team. For this reason, we always recommend deactivation over deletion.
To delete a user, you must first deactivate them. Then on the deactivated profile, click Manage > Delete user and all data. You can also delete from the Directory: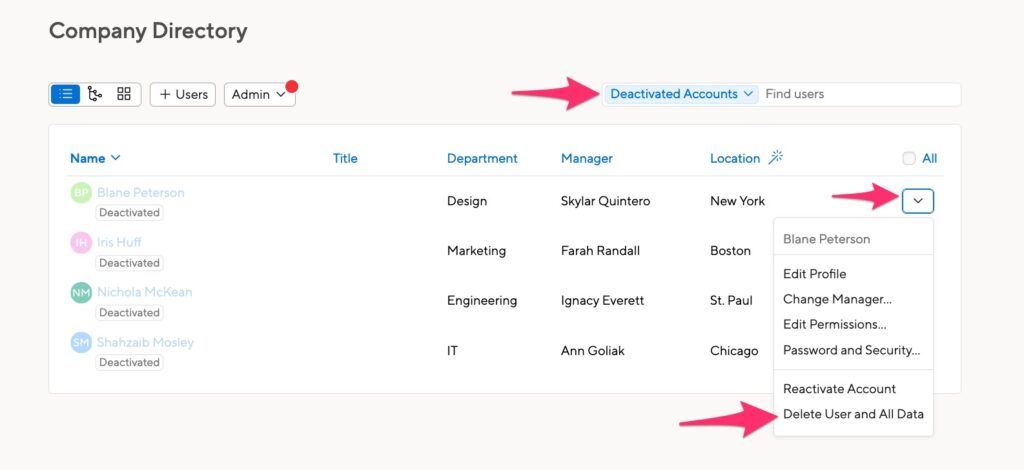 You will be asked to enter a confirmation before the deletion happens.