Anytime Feedback requests allow employees to run employee-driven 360 feedback cycles. "Request Feedback" templates give your team a consistent way to ask for input from their colleagues.
Insights
Click Anytime Feedback in your Admin menu to see a list of all the requested feedback in your company. You'll be able to access feedback you have visibility to.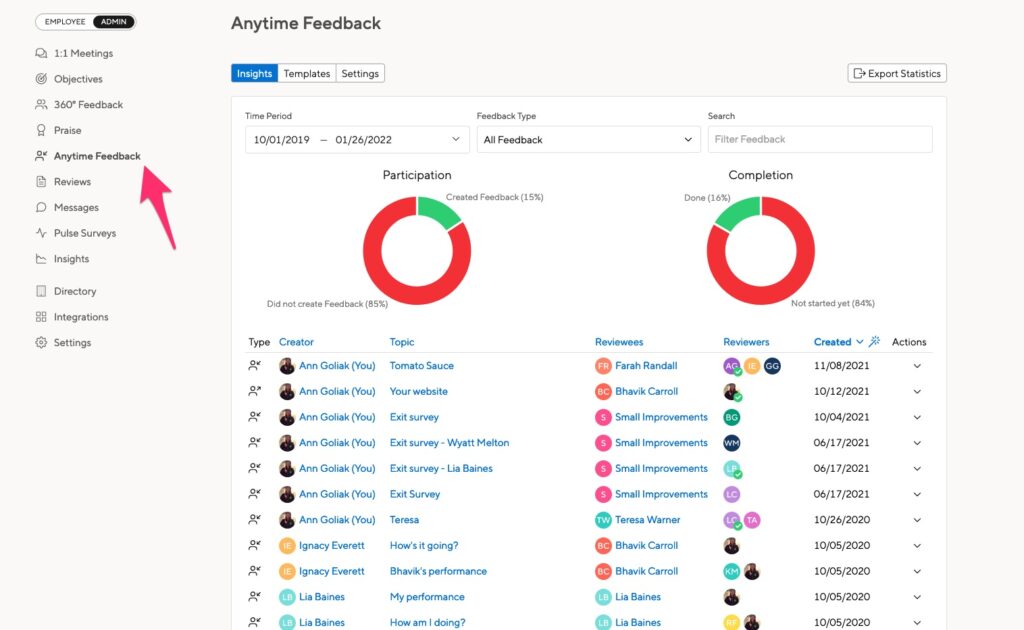 You can filter by "Request Type" to see proactive feedback, requested feedback, and feedback that resulted from an automation.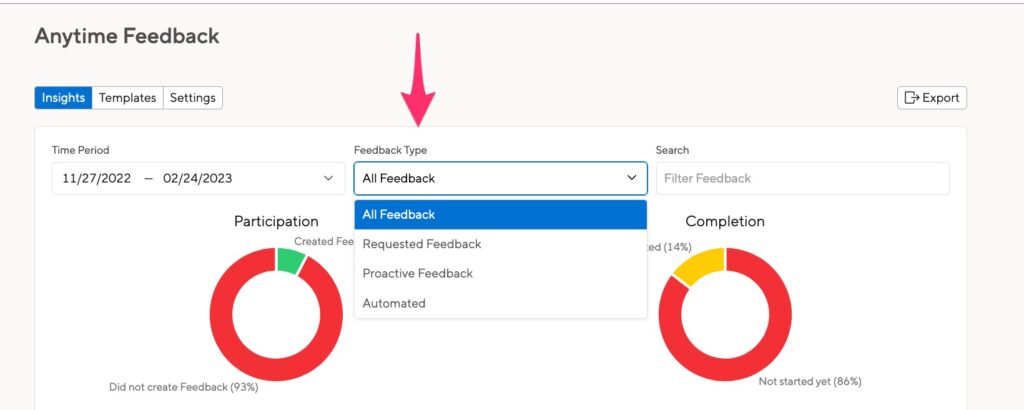 Statistics
HR Admins can get insights into how employees are using Feedback Requests by exporting a usage report. Note that this report is statistical only; it won't include the content of the submitted feedback.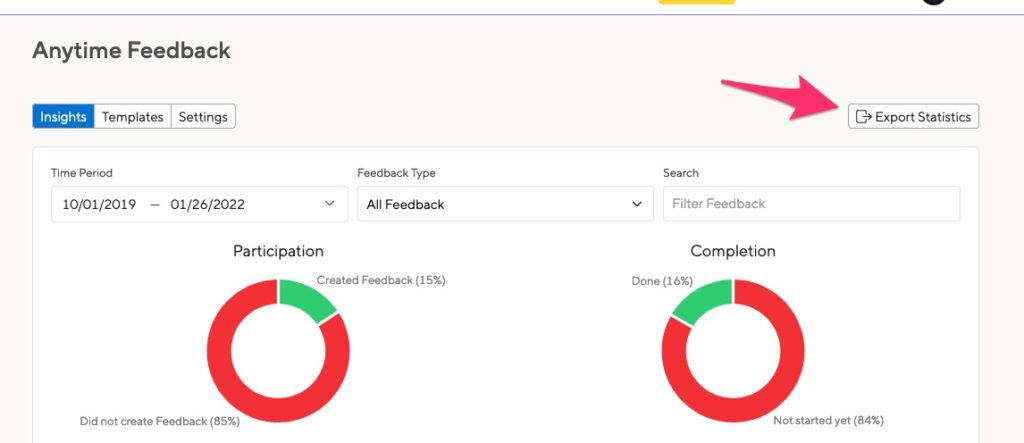 You can select CSV or Excel format, and choose your date range. Your export will appear on your home page and on your Latest Exports page.
Feedback Request Visibility Settings
Click the Settings tab to set default visibility on feedback requests.
The HR Admin visibility options are:
Everything – HR Admins will see the content and who wrote it
Anonymous – HR Admins will see the content but not the author
Nothing – HR Admins will not see the content or author
You can choose to allow people to change the default setting.
You can also allow employees to give feedback anonymously.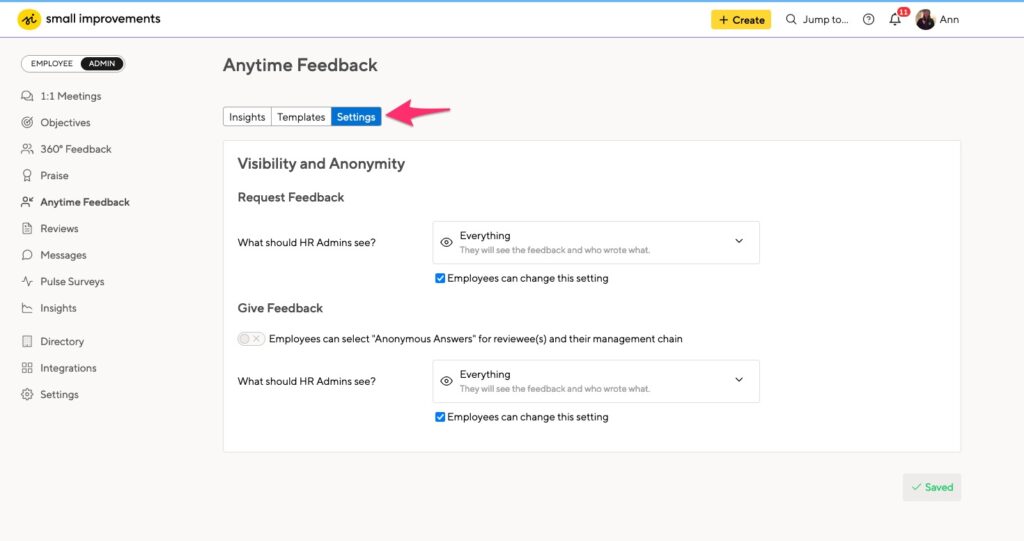 Feedback Templates
Click the Templates tab to view, edit, and create templates.
We offer several existing templates for use by your staff. You can edit or remove these templates using the pen icon or trash can icon.
Creating a new template.
Select the 'Create New Template' option at the top of the screen to get started.

Give your template a name and description. The description will be visible to your employees, so let them know what you want to know.
You can also set permissions for your template. Can every employee use it, or do you want to restrict it to only your HR team? You can also allow the template to be used for Proactive Feedback, Requested Feedback, or both.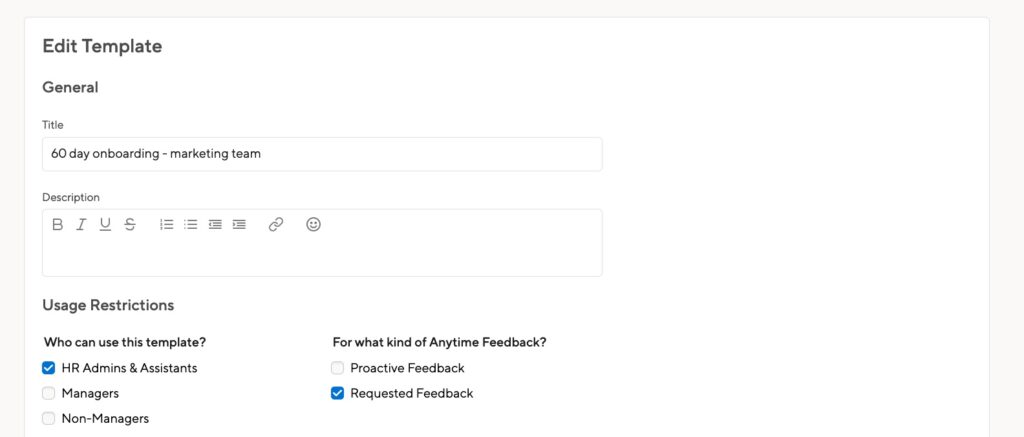 Next, you can create your questionnaire. Feedback Requests support the same question types as a 360 Feedback cycle.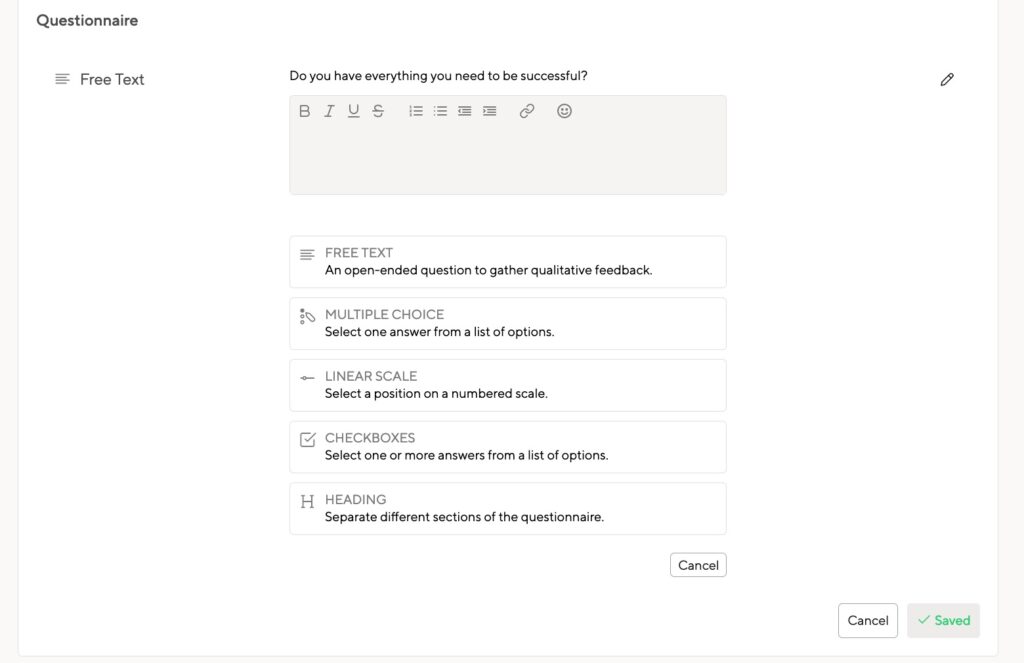 Save the template, and you're ready to use it!
You can edit an existing template or delete it completely on the administrative screen. You can also disable a template to hide it from your employees. Use the up and down arrows to reorder your templates.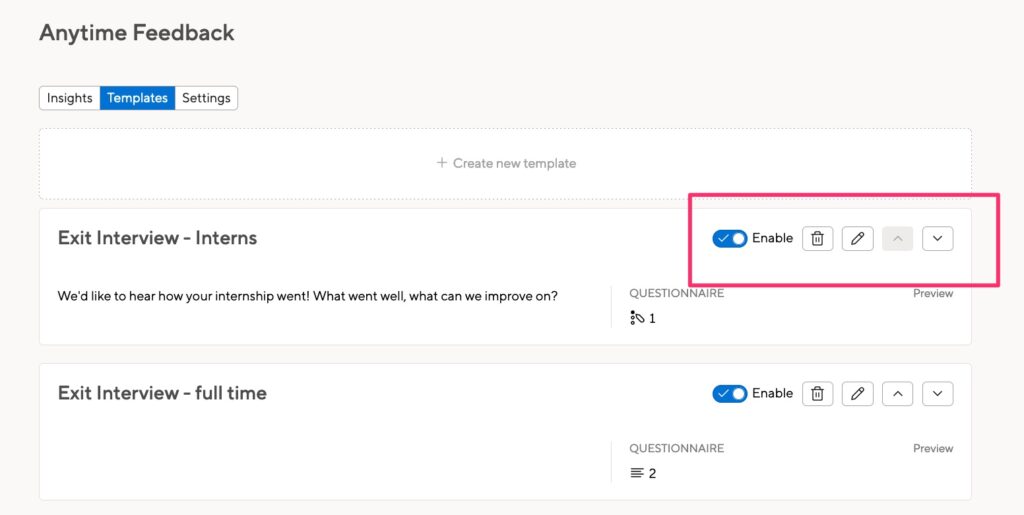 End-user overview
When requesting feedback, team members will see the option to select from your existing templates, while setting up the feedback questionnaire.
Please note: Templates are not enforced – the employee can still edit the template after selecting it. The original questions in the template can be edited or removed by the employee for their feedback request. Edits do not affect the templates for other employees, only the specific feedback request.
Below is a .gif showing the option for templates in the questionnaire: