It's very easy for employees to define their work objectives, and it's just as easy to get an overview of your organization's progress towards achieving their objectives.
Creating an Objectives cycle allows you to provide some structure and guidance around goal setting, as well as set timelines to exactly match how your company's objectives schedule should unfold. For instance creating a quarterly, yearly, or longer term objective process – This is entirely up to you to define.
You can even have parallel cycles running if there are different guidelines that are needed, but with overlapping timelines.
Initial Set-Up
Before people start creating and tracking their objectives, an HR Admin needs to define a time frame where this activity can occur. Objectives are organized into objective cycles, and the most common use case being to define quarterly objectives. This way, people are not stuck with last year's objectives forever- But rather they are encouraged to revisit past goals, adjust upon this reflection when creating new ones, every three months.
To create a new cycle (and thus open the time window for objective creation/tracking), or modify an existing cycle, you'll need to navigate to your cycle administration screen. You can find this either in your Administration portal, or via the "Company" view in your left hand menu bar.
Once there you will see any existing or past cycles which have been created.
To edit an existing cycle: click"Edit Cycle Settings"
To create a new one: click the yellow button in the upper right corner which says "+Create Cycle"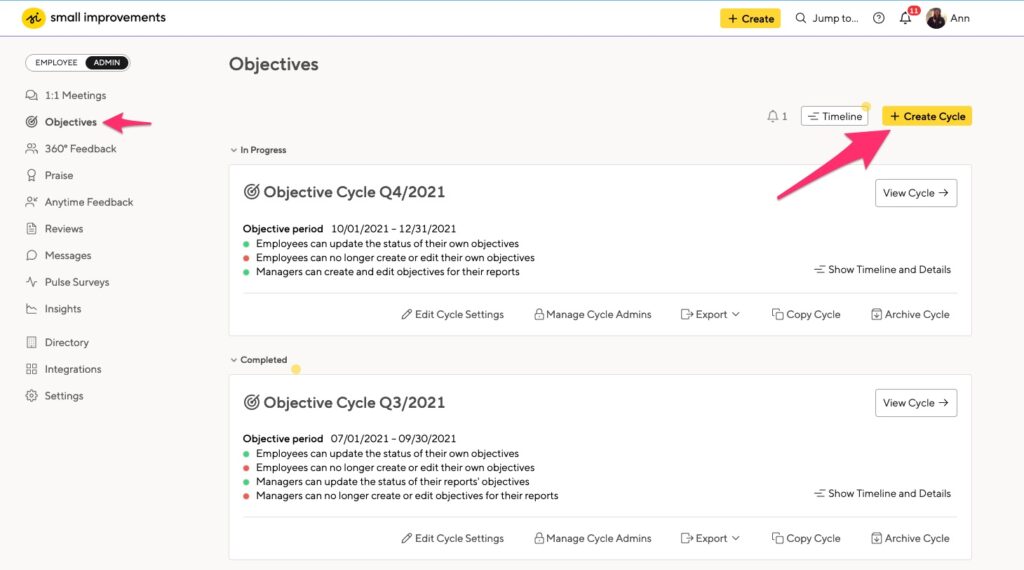 Choose the participants
You'll start by choosing the people participating in the objective cycle. You can select the entire company, or select individuals.
Use the "Selected Staff" option to set objectives for certain departments, set onboarding goals for new employees, or create performance plans for specific people. Learn more about objective cycles for teams.
Name & Introduction
Next, you'll add the name of the cycle, any introduction or further guidance, and a time period in which objectives will be taking place. For the introduction description, there are some useful options to consider here when thinking of objective alignment.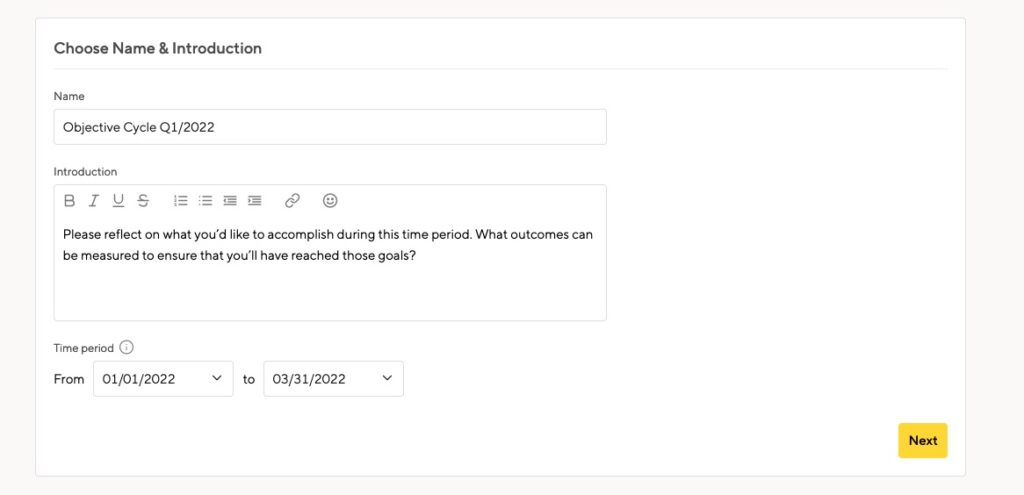 Cycle Process
The next step in the cycle creation are some important process considerations:
Who gets to create and edit Objectives? You have the option to limit this ability to just employees, just their managers, or everyone.
Default visibility. There are three visibility settings on objectives:

Private: The onbjective is only visible to the owner
Protected: The objective is visible to the owner, their direct manager, plus manager chain up the hierarchy.
Public: Everyone in the company can see the objective

Automatic due date reminders. If you enable this, Objective owners will receive automatic reminder emails based off the due date which was defined when the objective was created. (30, 10, and 3 days prior to due date, and 7 days after if objective still in an open status.)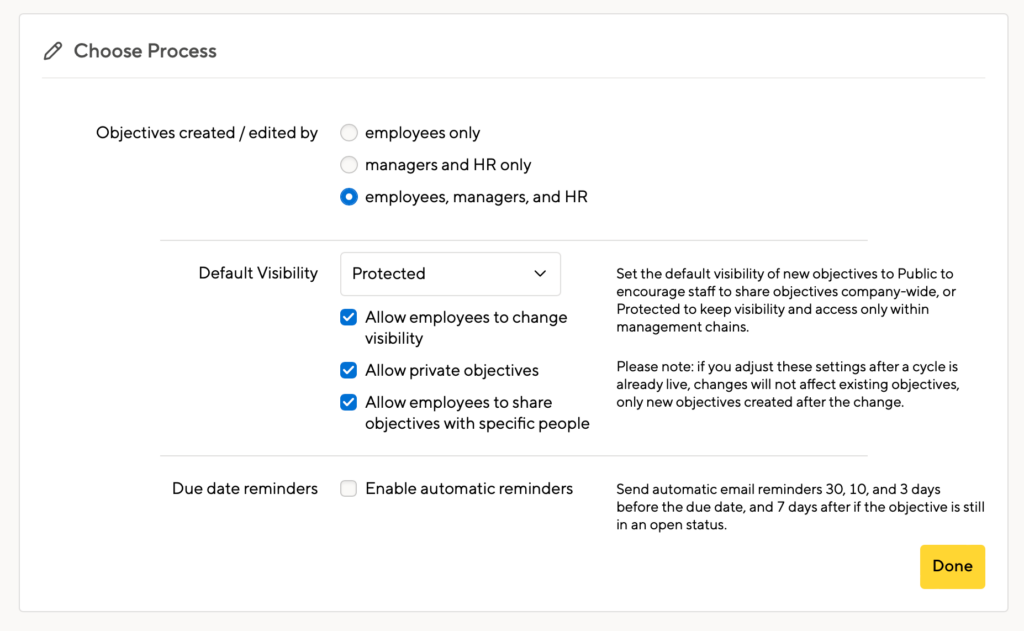 Guidance and Structure
The next step is key as it affords the HR Admin the ability to provide a framework for objectives creation.
Standard options available for you to explore are:
Key Results: Allow objective creators to define a checklist of deliverables they are looking to achieve when working on their goals.
Status: Give team members an opportunity to communicate the current status of an objective. Learn how to customize names and colors below.
Categories: Fully self-service customizable, this option is another tool for trying to provide structure to objectives by aligning goals around common themes or company priorities. Learn more in the next section!
We feel less is more, and encourage a lightweight approach to goal setting. There are, however, some advanced options that can provide even more nuance to your Objectives process.
Advanced Options
Ratings: Fully customizable, you can add a measurement component to your objectives. Since all Objectives data is fully exportable and can be worked with externally, this option can be useful if Objective evaluation is part of the performance management decision-making process (merit increases, promotions, etc).
Completion Percentage: An alternative to the status option, also allowing for a more quantitative approach to measuring an objective's success. Completion percentages are manually inputted by the employee or manager.
Weighting: Useful for communicating priority. As an example: Say a manger assigns their reports three objectives for a quarter but wants them to have an understanding of which should require more of their time and energy- With this option the manager could assign one a weight of 60%, another of 30%, and the last as 10%.
Cycle Timeline
Depending on how you define the "Who gets to create and edit Objectives" section of the process step in cycle creation, your timeline will play a crucial role for your team members.
For instance, if only managers can create and edit goals, only a timeline relevant to that workflow will appear here. But by default you essentially have these things to consider:
How long do employees have to create and then edit their objectives? How much additional time (if any) do they have to work on them?
How long do their managers have to create and then edit their report's objectives? How much additional time (if any) do they have to contribute/update them?
What is the placeholder default due date?
You have utmost flexibility here, free to control how objectives are populated, when they can be worked on, and by whom. Admins have the ability to enable employees and/or managers to update the status of their objectives indefinitely – even after the Objectives Cycle ends: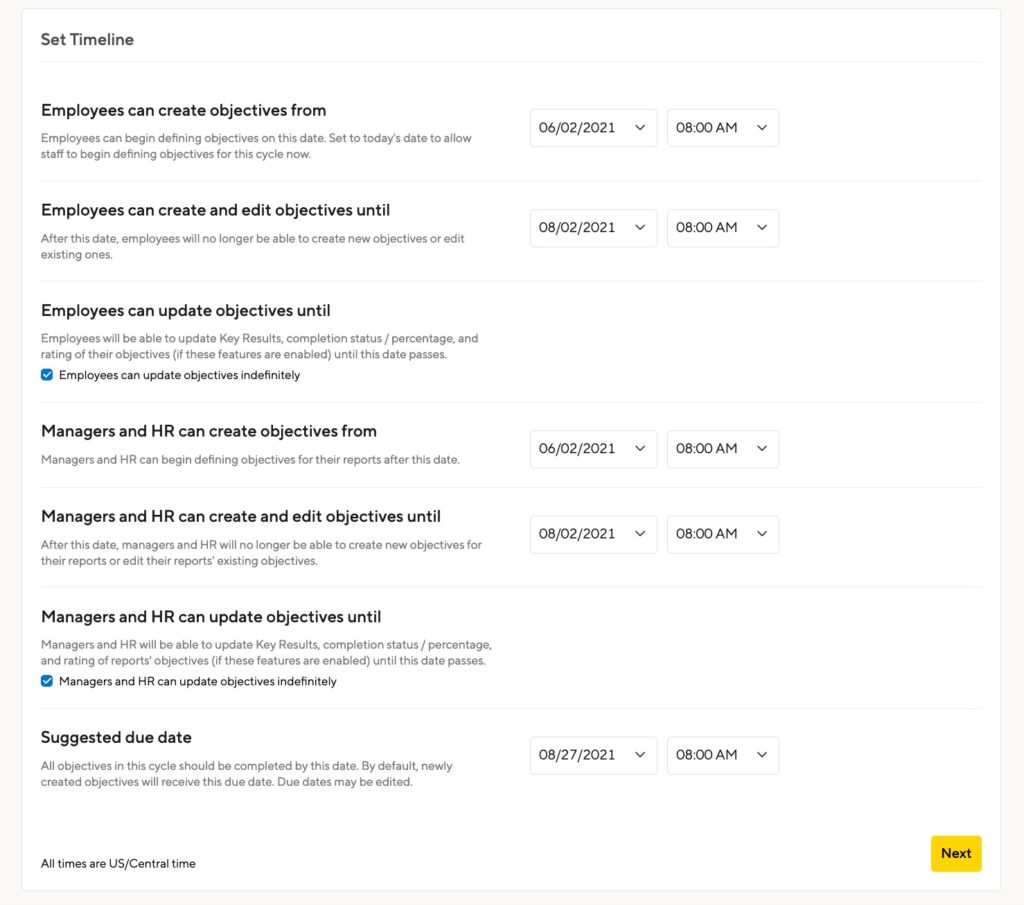 Objective Alignment Using Categories
If you want everyone to align their objectives with your current company goals, then you should consider using the objective categories option. You can define your key company goals for Q3 by setting up categories like "Reduce Churn" or "Improve conversion rate" while in Q4 your focus might switch to "End of year revenue drive" and "Improve Customer Experience". Just set up the categories for the cycle accordingly:
When staff set up their objectives, they will be prompted to select what kind of objective they are creating. And if you outline or link to company objectives in the "introduction" section of the cycle set-up, it is easy for all to cross-reference those categories with helpful data points.
Exporting
You have the option to export all of your cycle data, including any guidance or structure options you've enabled, to either an Excel spreadsheet or CSV file. Just click the "Admin" button on the company overview screen for the cycle and select "export cycle data".
You'll then be given the option to order the exported objectives by owner or by the objectives themselves. Choose which column you want, select your file type, and click export. In a few minutes, the file will be available for download from our dashboard.
For more detail check out this article.
Sorting
Depending on which options you've enabled for the cycle, you also have the ability to truncate your list view of objectives on the company overview tab. Clicking the available bar graphs on the top of the cycle page, will highlight just the objectives associated with those labels. Like this:
Objectives list view, actions menu
On the company overview tab for an Objectives cycle, there is a list view of objectives your team has created and are working on. If you are an Admin- To the right you'll see a menu column titled "Actions", with an icon next to each person's name. Clicking that icon expands the view of their objectives, also giving you some high level options for adjustments.
Depending on what you've enabled for the cycle, you have options including:
Updating the status and/or completion percentage of a goal.
Adjusting the weighting (communicates priority) for goals.
And if you click the downward facing arrow you have these options:
Important to note: If you see an option like "Move" or "Copy" grayed out- It is because their is no open cycle to move or copy to. In order for those menu options to work there must be another cycle which has an open timeline.
Status Options
Each objective can have a status. The available options default to a list of 7 statuses. These statuses fall into two groups: Still ongoing ("open", "in progress", "awaiting approval") and some level of completion ("achieved", "not achieved", "deferred", partially achieved").
The big difference is that you get reminders on the homepage and by email for the ongoing objectives, but not for the non-ongoing ones.
Right now Small Improvements doesn't provide self-service administration of statuses in the objective cycle settings screen, so you need to contact SI support if you'd like to adjust your selection. Simply let us know what status options you want, which of them are considered "complete" and what colors you'd like to use. Ideally, if you could include HEX codes for your color requests, that would save some time.
Notifications and Automatic Reminders
You can remind people to create or update objectives, and the system sends automatic emails as well.
Invitation to get started As an administrator, you can notify staff to get started in the process of creating the cycle, or choose to send these out at a later date. If choosing to notify a later date, you'll find the bulk notify option by clicking into the "Notify" button on the company overview tab for the cycle you just created.
Nudge As a manager or admin, you can browse the list of employees and their objectives, nudging one at a time for those who need to get started or make updates. This triggers an immediate email to the objective owner. You can also nudge the objective owner's manager, for instance in case you believe the manager should approve an objective, or in case you want the manager to chase the team member about the objective. This nudge is sent immediately as well.
Daily update: Staff will receive automatic notifications once their manager creates or changes their objectives. Managers will get notifications once their team members create or edit their objectives or write comments about them. These notifications are only sent once per day, to keep the amount of email limited, and a manager only gets one mail for the entire team.
Automatic due-date reminders: If you enabled this option, staff will get automatic reminders about their unfinished objectives. We consider objectives to be unfinished if they are "open","in progress" or "awaiting approval". Once the status has been changed to "achieved", "not achieved", "partially achieved" or "deferred", then an objective is considered finished, and no reminder is sent. The schedule for reminding a user of her objectives is 30 days before an objective is due, 10 days before it's due, 3 days before it's due, and 7 days after an objective is due. The moment an objective is marked as finished, no further reminder is sent.It's currently not possible to change the timing of these due-date reminders. If you don't want reminders to be sent at all, then the option to not send reminders is for you (see above).