By default, the employee's direct manager will be added as their main reviewer. However, there may be times when someone else should be responsible for the review, or when you want someone else to contribute. Small Improvements give you the flexibility to adjust the reviewers.
Changing the main reviewer
The main reviewer will be able to share and sign the employee's review. Normally this is the employee's manager, but you have the ability to change that.
Hover next to the current reviewer's name in the cycle overview and click the pencil icon that appears.
Click then trash icon next to the reviewer's name to remove them as the reviewer.
In the box, start typing the new reviewer's name and click to select when the option appears.
Click the yellow "Save" button to complete the change.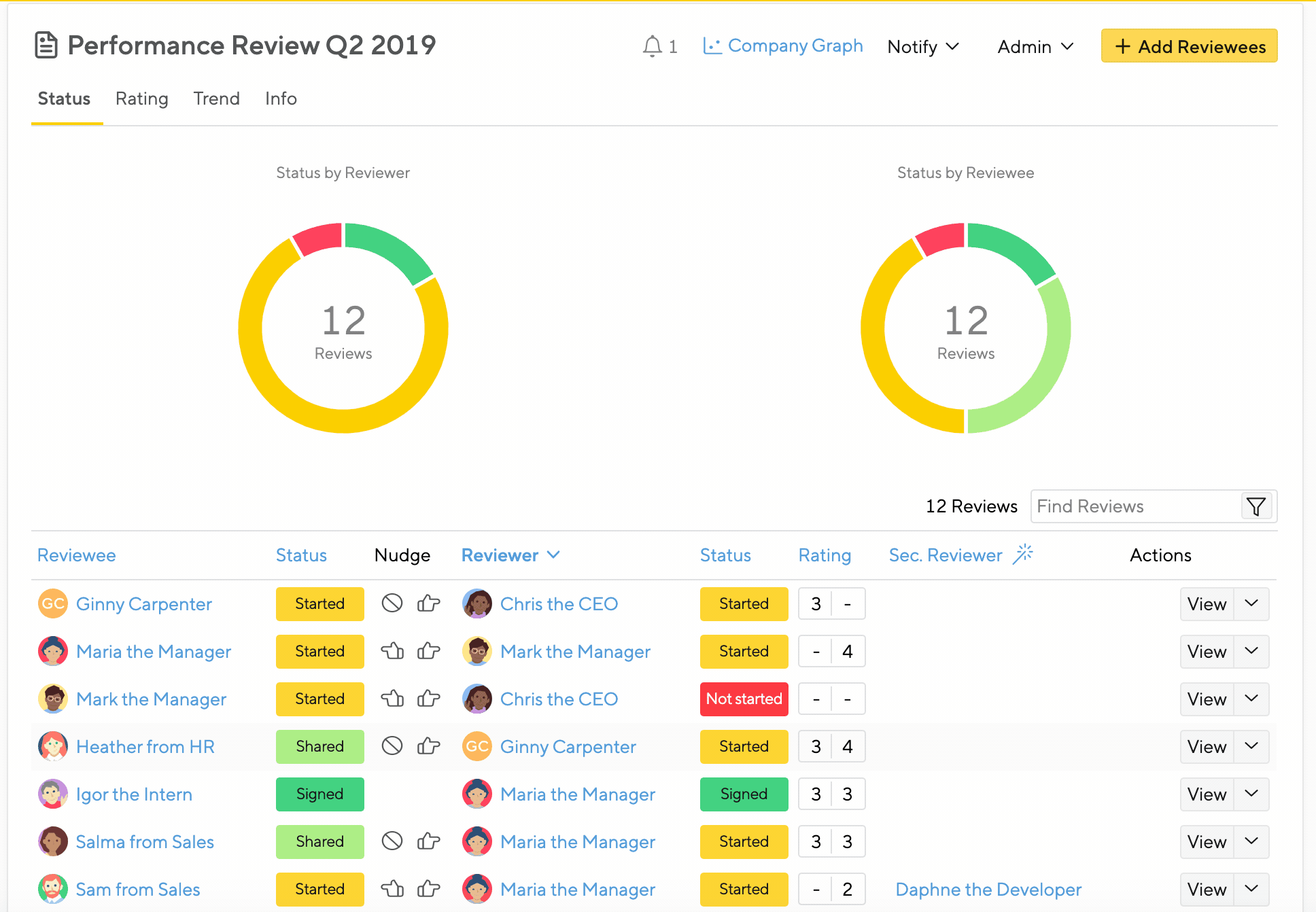 Resetting reviewers in bulk
If you've copied a past review cycle, your managers might not be up to date. You can reset the main reviewers for an entire cycle by clicking the Admin menu, then "Reset reviewers"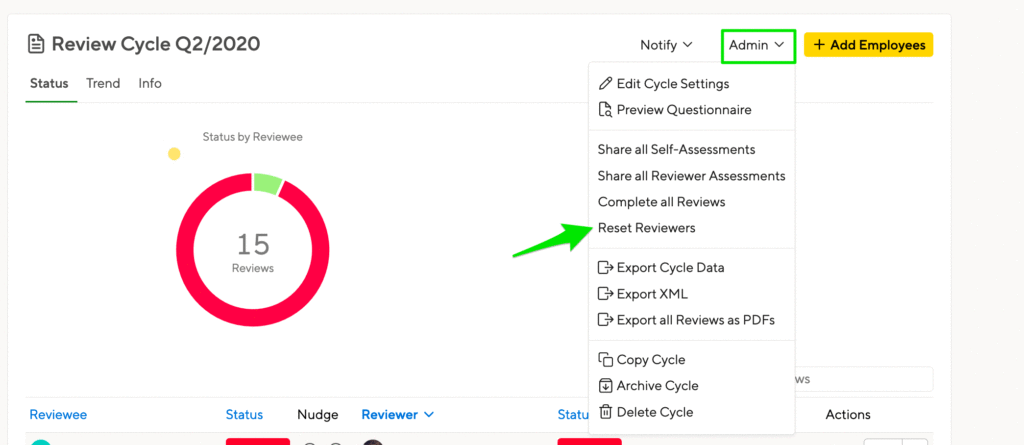 You'll have the option of resetting the main reviewers, the secondary reviewers, or both.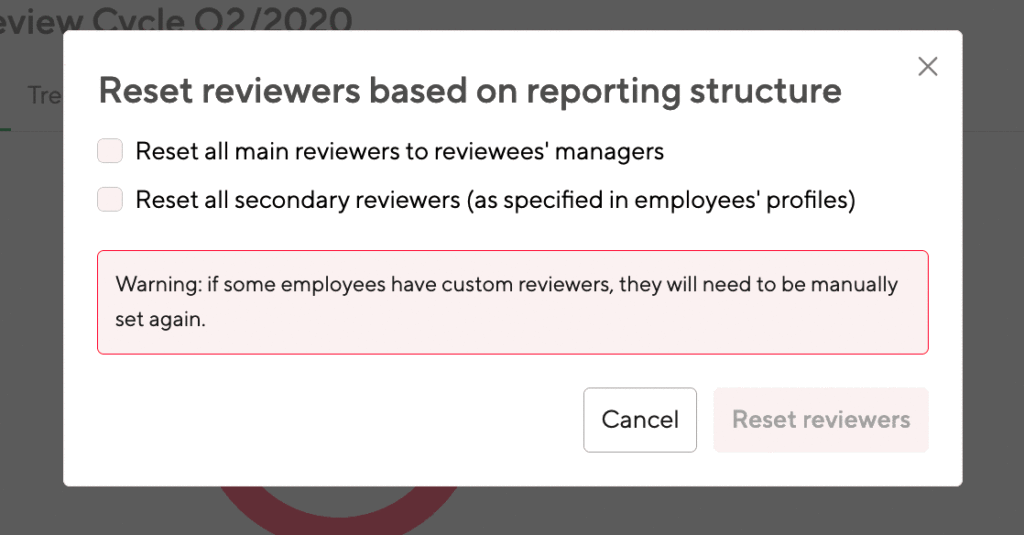 Secondary reviewers
The secondary reviewer concept allows another person to contribute to the employee's performance review. Use this approach if the direct manager is not the only person who needs to provide input into a review.
Every employee can have one secondary reviewer in addition to their manager. You can choose a secondary reviewer just like you choose a manager:
Navigate to a user's profile, and click Edit. Use the user picker to find and add the secondary reviewer. Don't forget the Save button at the bottom of the page! This secondary reviewer will automatically be added to each new review cycle.
You can add or update secondary reviewers in bulk using the CSV import.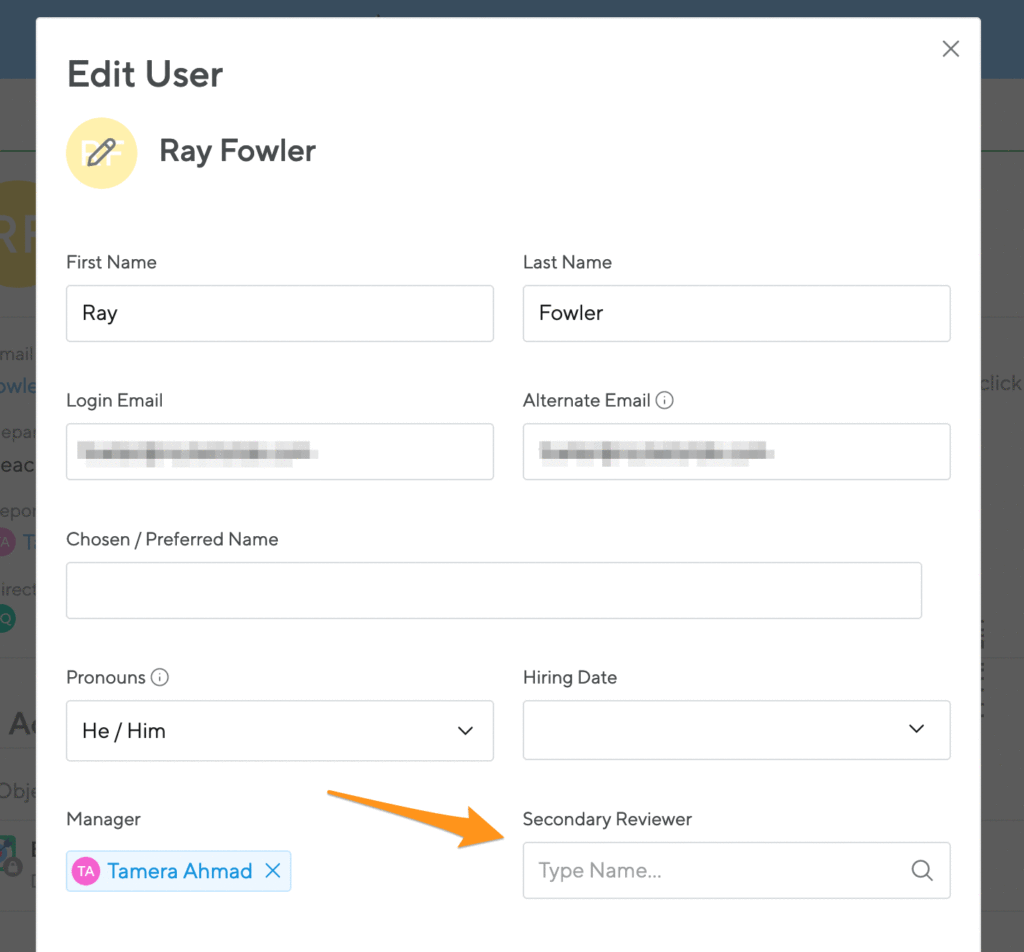 Secondary reviewers on a per-cycle basis
You can also set up a secondary reviewer on a per-cycle basis. Select the secondary reviewer column and then click the Add button: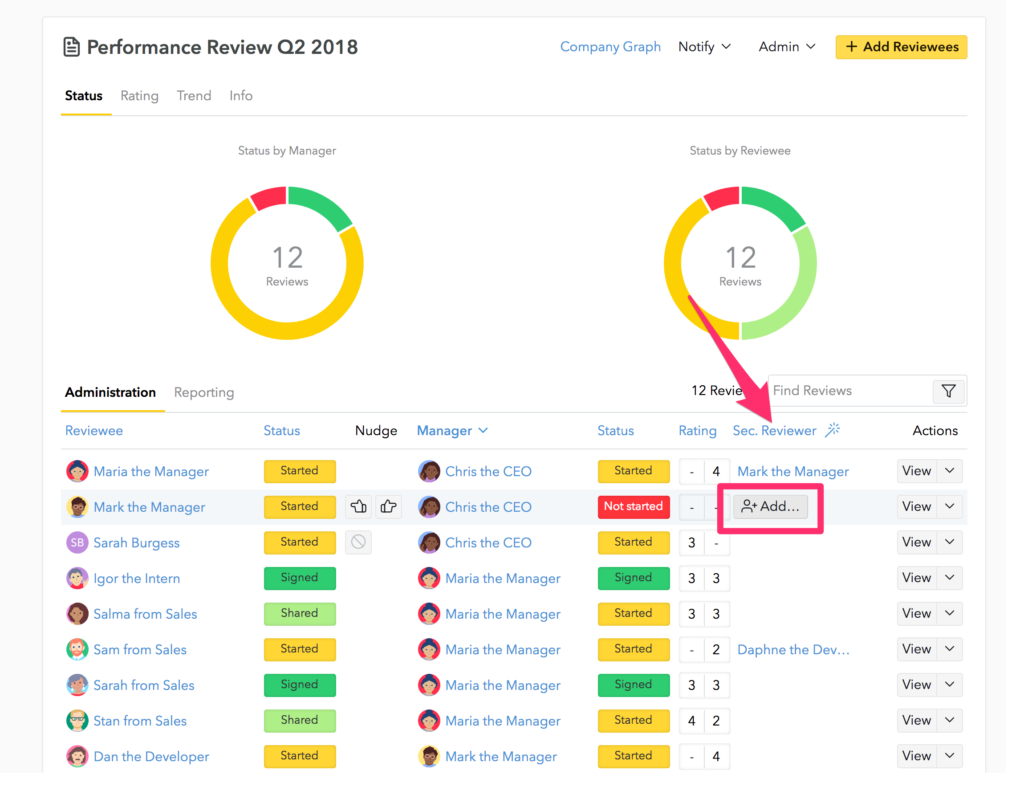 From there, start typing the user's name into the pop-up search field: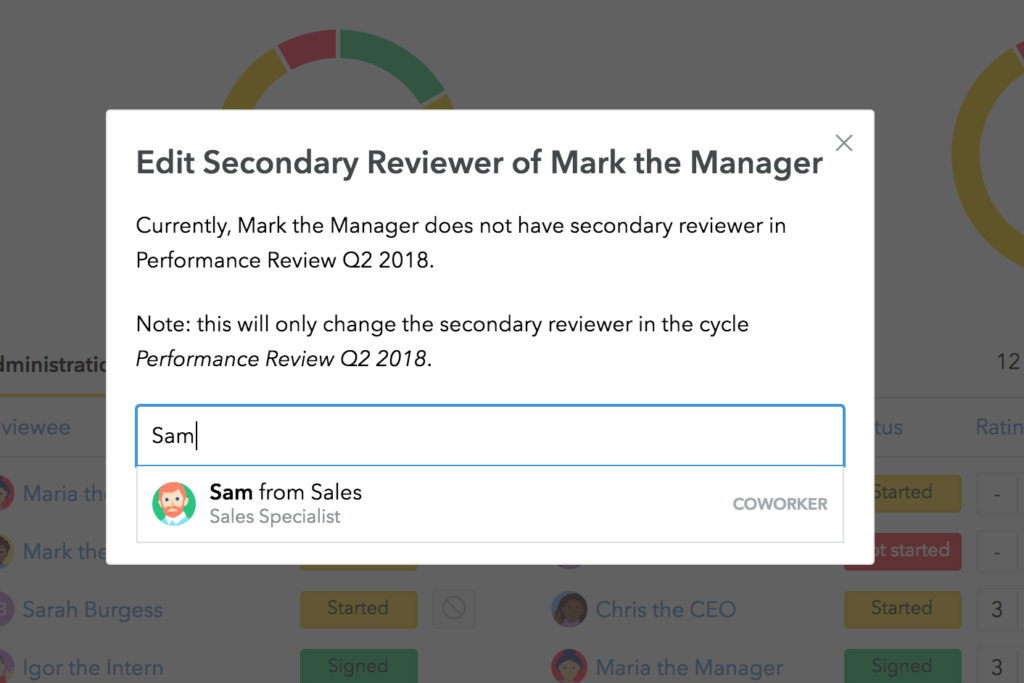 The secondary reviewer's perspective
Accessing the review
When the HR Admin starts a performance review cycle, the option to prompt a secondary reviewer with an email notification will be available just as it would for the direct manager.
In addition to the email notification, the secondary reviewer will also see an action item on their Small Improvements homepage: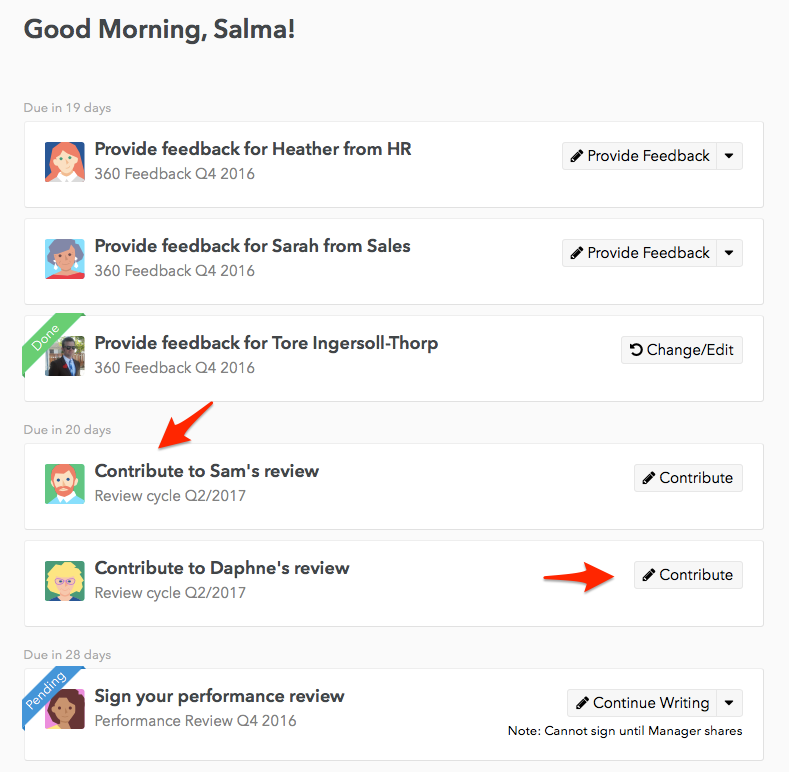 And here is how the secondary reviewer can find the review in the Team page, and the Reviews module: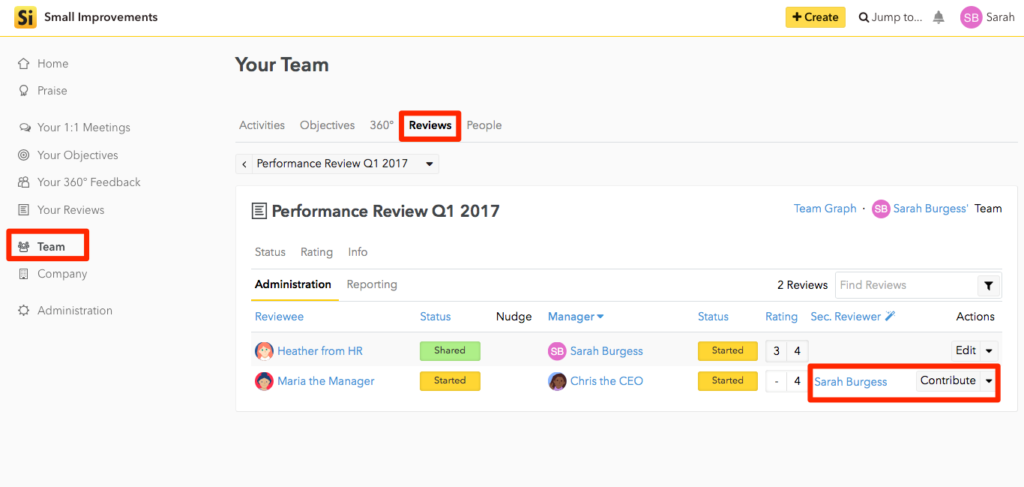 Contributing to an assessment
The secondary reviewer contributes to a colleague's performance review simply by typing into the manager's side of the performance review. They are, in essence, sharing the manager assessment with the employee's direct manager.
The secondary reviewer cannot share nor sign the review with the reviewee, this is entirely the manager's decision- And there a warning message which will alert the secondary reviewer to this: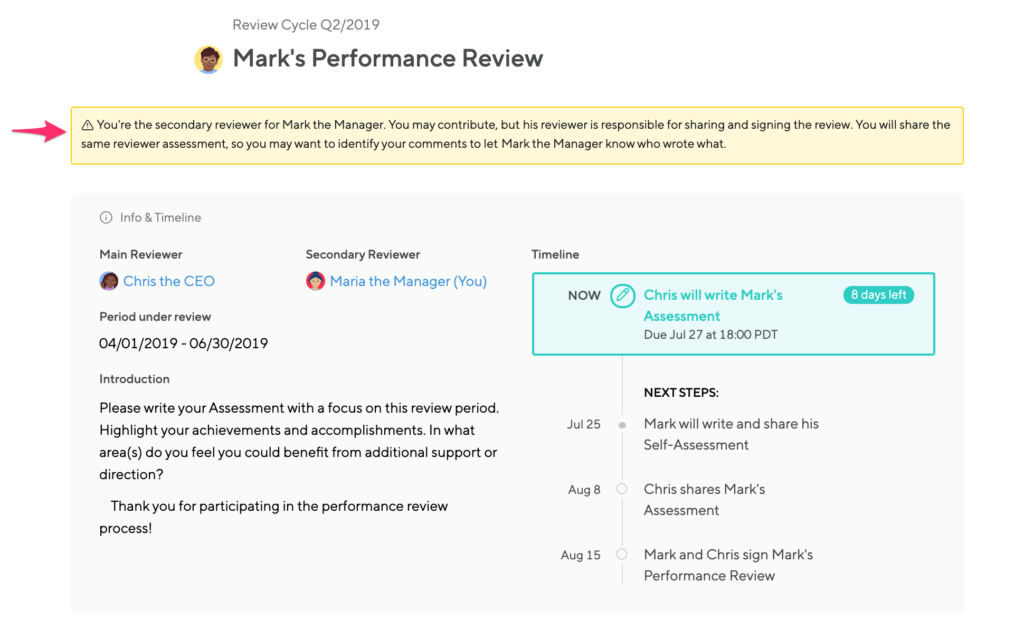 To differentiate the secondary reviewer's contribution from the manager's, we recommend using our rich text options to annotate feedback with something simple like your initials or "Feedback from."