The mail log allows you to quickly identify undelivered emails and to get detailed information about why they were not delivered. And you can also manage bounced email addresses. You'll find a link to it in the Administration Overview.
In general we are able to smoothly deliver emails. But sometimes errors do occur, for example there might be a typo in an email address, a server might be misconfigured or an email might have ended up in a spam folder. These are cases where the mail log might help you out.
Mail Log
To locate the Mail Login your account, navigate to Settings > Mail Log: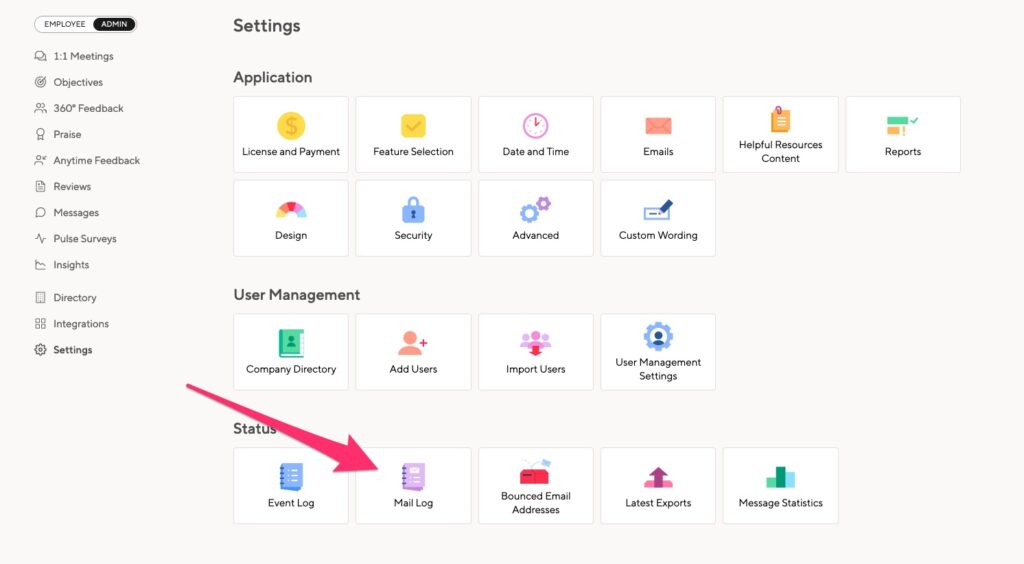 Monitoring
With the mail log you can see exactly which emails have been sent and which we were not able to deliver. Every email in the mail log is associated with a status. The status might be Pending, Delivered, Dropped, Bounce or Deferred.
Pending: We have not yet sent the email. We typically send emails within a few minutes.
Delivered: The email has been successfully delivered.
Dropped: The email address is marked as bounced. So we did not try to send the email.
Bounce: We tried to deliver the email but failed.
Deferred: The email will be sent later.
If all emails have been delivered the mail log might look like in the image below.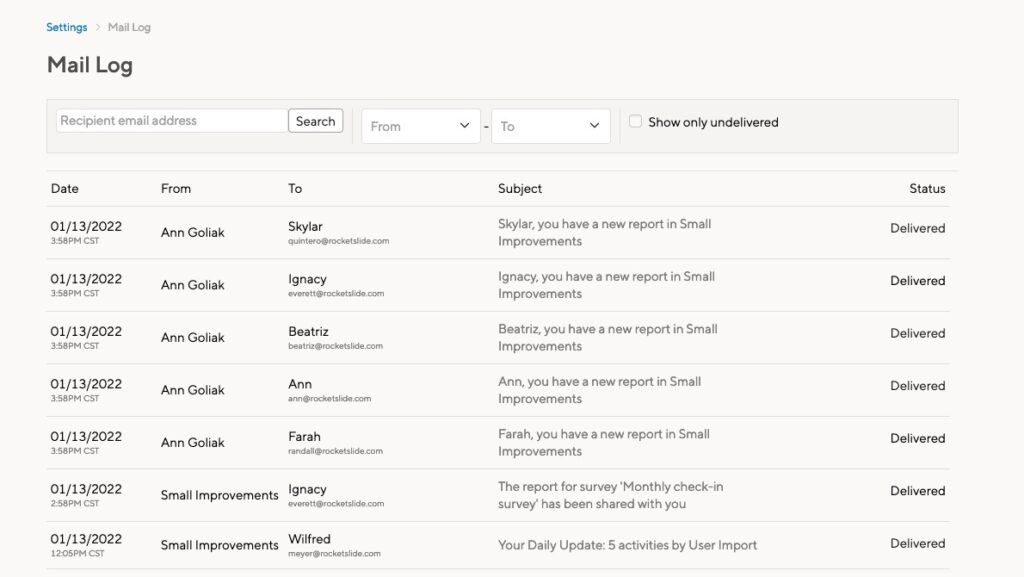 If you have any bounced email addresses the mail log might look like this:
Investigating Undelivered Emails
It is pretty straightforward to see all undelivered emails: simply press "Show only undelivered". You can then further narrow down the emails by specifying a user's email address and/or specifying a date interval.
Getting Technical Information
Emails with status "Bounce" typically contain technical information. This might be useful if the error is not just a typo in the email address. To access the technical information hover the status and press "Show details".
Bounced emails
If your employee isn't receiving email from Small Improvements, it's possible that their email is on the Bounced Addresses List. If so, you can remove the employee from the bounce list and we will attempt to deliver emails to them. Below are some common reasons for an email bouncing:
The employee's inbox was full when we attempted delivery
The employee's mail provider has a firewall or advanced spam filter that rejects unknown addresses
The employee was a new employee who didn't have the listed email account setup when you first added them, so we attempted to email but the email didn't actually exist yet
The employee received our emails, but marked an email from us as spam
What we recommend:
Employees reporting issues should add no-reply@small-improvements.com to their safe sender list
Ensure small-improvements isn't blocked by a firewall on your mail provider
Make sure emails are fully active for new joiners before adding them to receive a welcome email from us
Your IT team could white-list our IP address, email us for details.
Removing Employees from the Bounced List
Visit Administration -> Bounced Addresses to view any issues and remove employees from the list: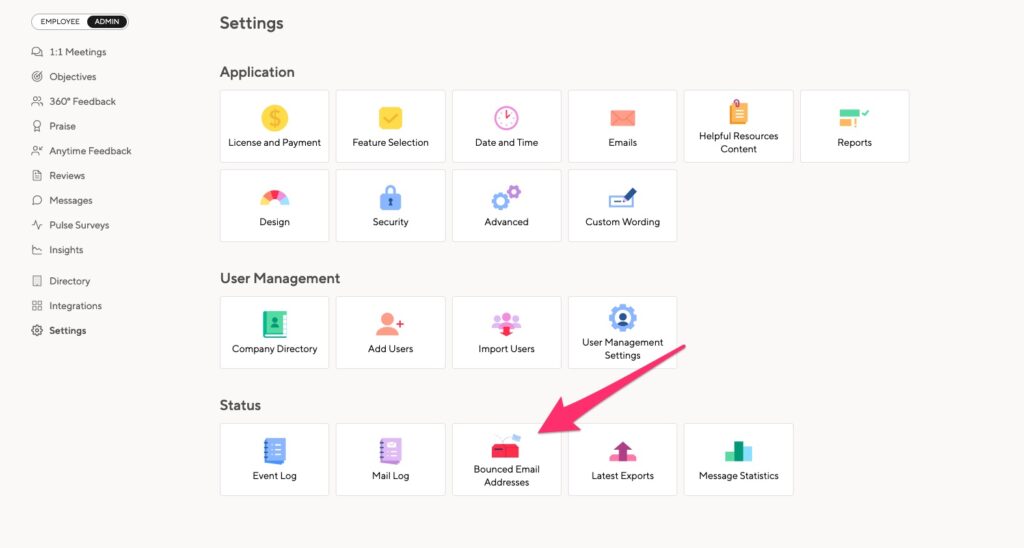 From this screen, you can view reasons that an email has bounced, remove individual users from the list or clear the entire list at once. Below is a screenshot highlighting these options. 
Feel free to contact us if you have any questions.