This integration automatically creates 1:1 Meetings between managers and their employees inside Small Improvements, making it easier to track ongoing feedback and performance conversations.
The integration reads 1:1 Meetings from your calendar on Google Calendar or Outlook and populates them inside Small Improvements as new 1:1s.
1:1 Meetings created in Small Improvements currently will not create a calendar event back onto your calendar system.
The integration only works one way, to sync meetings over to Small Improvements – not the other way around.
Technical setup needs to be done by an HR or Tech Admin
Using the integration (all user levels)
Once your HR & Tech Admins have set up the integration from your calendar system into Small Improvements, head into the 1:1 Meetings Overview Page.
To import an event:
The event must be with just one other person
That person must be a member of your Small Improvements account
The meeting must have keywords or punctuation in the event title (like 1:1 or <> or / ). More on that below.
Your Calendar settings
Click on 'Calendar Settings' and the window-overlay presents the meetings that have been linked from your calendar.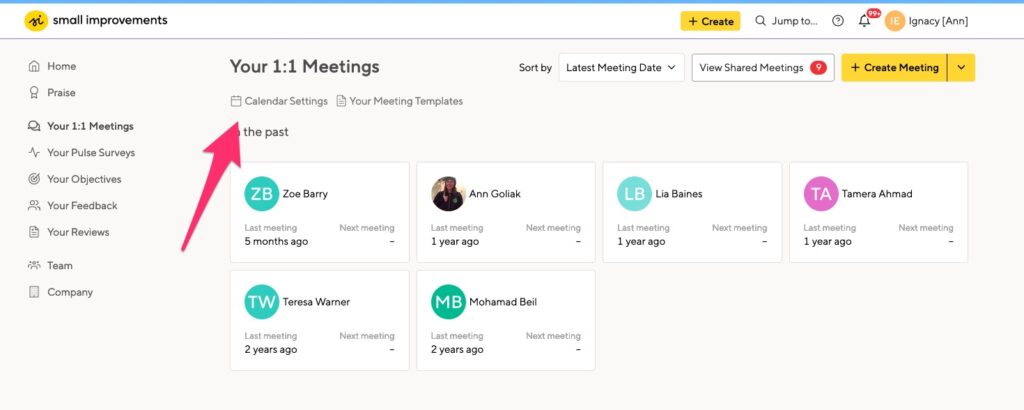 You can choose which meetings you want to be synced, and deselect those you do not.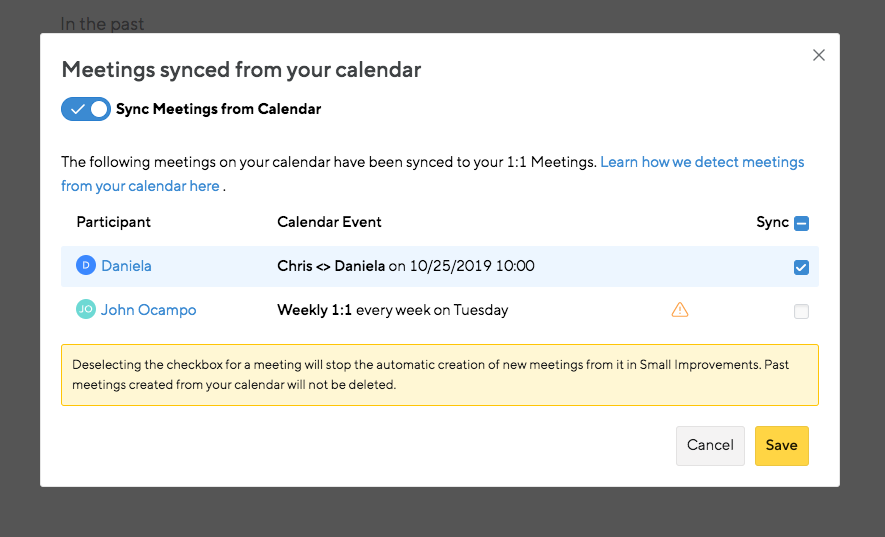 Keywords for recognizing a 1:1 Meeting
What you see here will depend on how a 1:1 Meeting is named on your calendar. Your HR Admin will set the allowable keywords (symbols/words that represent a 1:1 Meeting) that the system will read in your calendar and then populate in Small Improvements too.
The default keywords are: /, <>, one-on-one, 1on1, 1:1, one-to-one
In the example above, "Chris <> Daniela" and "Weekly 1:1" were imported based on the keywords appearing in the title of the meeting.
Managing your meetings synced from the calendar
After saving the meetings you want inside Small Improvements, clicking into the 1:1 Meetings page between you and the other participant will display an already populated meeting for the upcoming scheduled date and time.
You can view this in your calendar, and from there, adjust the date in your calendar if you need to, which Small Improvements will recognize and adjust in the tool accordingly.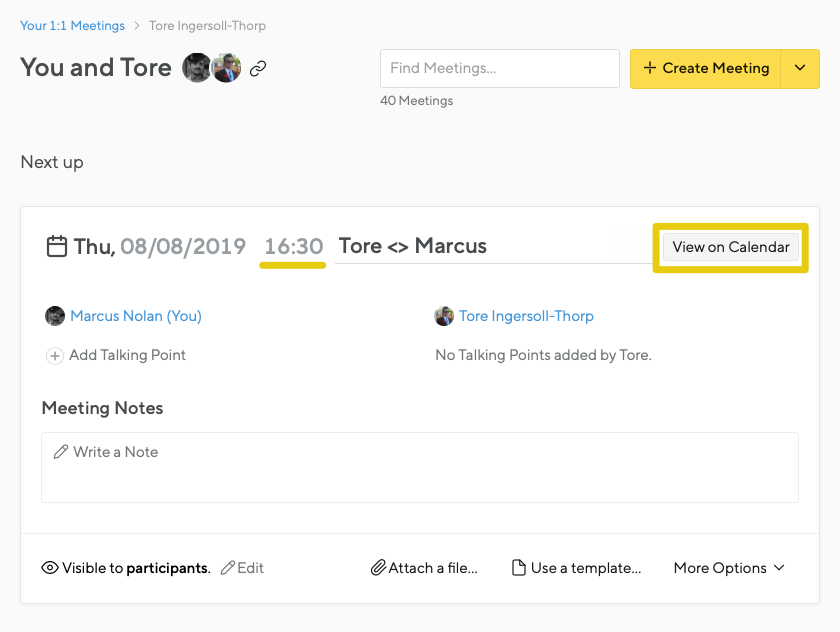 If the other participant has turned off the integration, you'll see the warning message that you can't sync those particular meetings.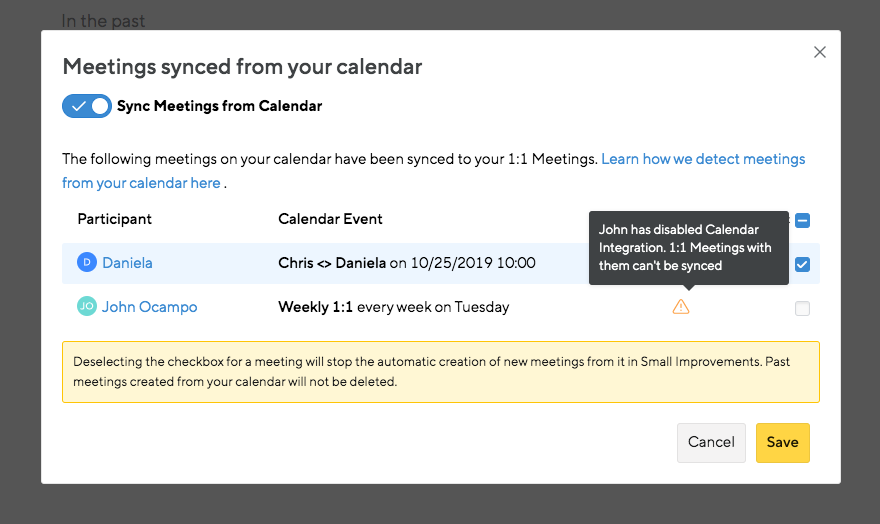 Outlook Users: If you're using the new Outlook Calendar interface, clicking on 'View on Calendar' will bring you to the week overview, rather than the actual calendar event popup. We expect this issue to be resolved as soon as the new Outlook user interface finishes its testing stage and becomes the main interface used by all Outlook users.
If you have any questions on how this 1:1 Meetings Calendar Integration works, don't hesitate to reach out to support@small-improvements.com. We are happy to help!