In order to use Small Improvements, staff will not just need an account, they also need to define a password (unless you use Google Apps or SAML SSO). Small Improvements can send email instructions to all staff about how to define a password.
Getting Started
We recommend sending people a welcome email before kicking off a review or 360 cycle. This lets people sign in, set up their profile, and explore a bit beforehand.
Go to the Directory and click the Admin menu. You'll find a link to send welcome/password create notifications to whoever has yet to receive one: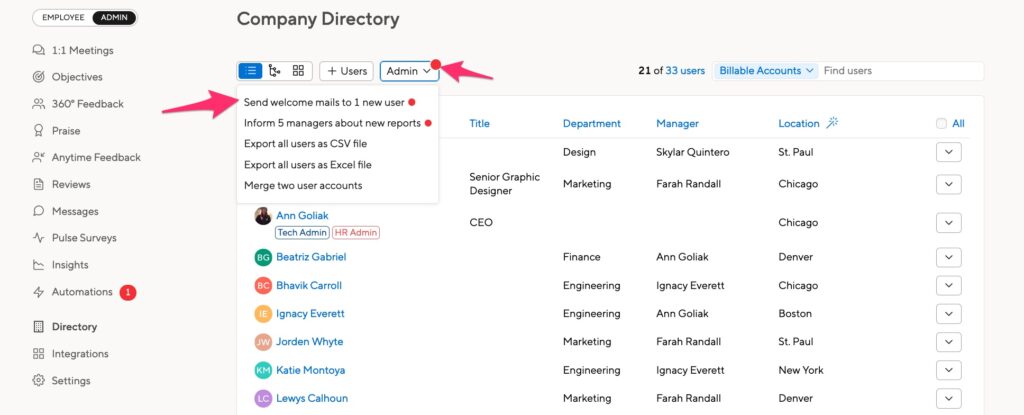 You can also send a welcome email to a single user. Just click the downward facing arrow to the right of the employee's name. There you will find many user admin options, including the ability to send a one-off welcome email.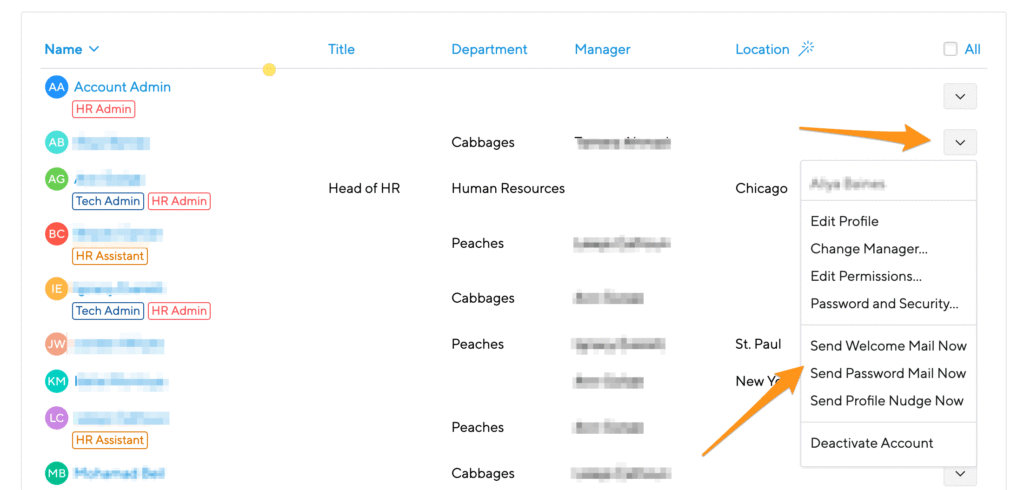 Customizing the email
You also have the ability to customize the Welcome Email to be specific to your company and team. So if you maybe want to include a link to a URL on your website, even a picture — it's all possible! We have general documentation about how to edit the emails.
Send the welcome email to a group of employees
Thanks to multi-selection, it is even possible to select groups of users in the List view, or entire departments in the Org Chart view, and trigger the mail to a select group of people.
Use shift + click to select the people you need. Then scroll to the bottom of your list:
Next steps
Based on what features you want to use, another email might be necessary now. For instance, if you're using performance reviews, you'll now want to set up those, and then trigger specific emails to those people who are being reviewed.
But it's not strictly required! If you just sent the welcome mail and all reviews are in place, then by logging in, your staff will see their to-do items on their homepage anyway. It really depends on your use case if you want to trigger feature-specific emails next.