There are several ways to use 1:1 Meetings visibility options to help improve performance conversations, feedback discussions, goal setting, and more. Check out the use cases and examples in the guide below. You can start using 1:1 Meetings Visibility both in individually set up meetings and while using Templates.
Combining 1:1 Meeting Templates and visibility features can help you ensure the right topics are being discussed. As an HR admin, you can steer the conversation by:
Creating private Talking Points for the manager in Templates to provide guidance on 1:1 discussions
Defining who can use a template and have visibility into 1:1 Meetings that use the template
Expanding the visibility of 1:1 Meetings to HR admins and the management chain to gain insight into meeting outcomes
Improved onboarding
Make onboarding new hires effortless for managers and teams. As an HR admin, you can create 30/60/90 day check-in templates for new hires and their managers, so both parties can give feedback or raise problems early on.
You can predefine visibility settings for onboarding templates to make them visible to HR, upper management, or both. For instance, you can set the 30-day and 60-day check-ins to remain private, while the 90-day check-in may be a bit more formal and should be visible to HR admins.
If either the new hire or their manager raises concerns, both parties will be able to share private 1:1 Meetings (for example, the 30-day and 60-day check-in) with HR and/or upper management on demand.
In the example below, we've selected that only managers can use the 30 Day New Hire Check-in template, but visibility into the meeting is open to HR Admins and the management chain. Pre-defined Talking Points offer managers a roadmap for the 1:1 conversation, so they have more direction on what topics to discuss with the new hire.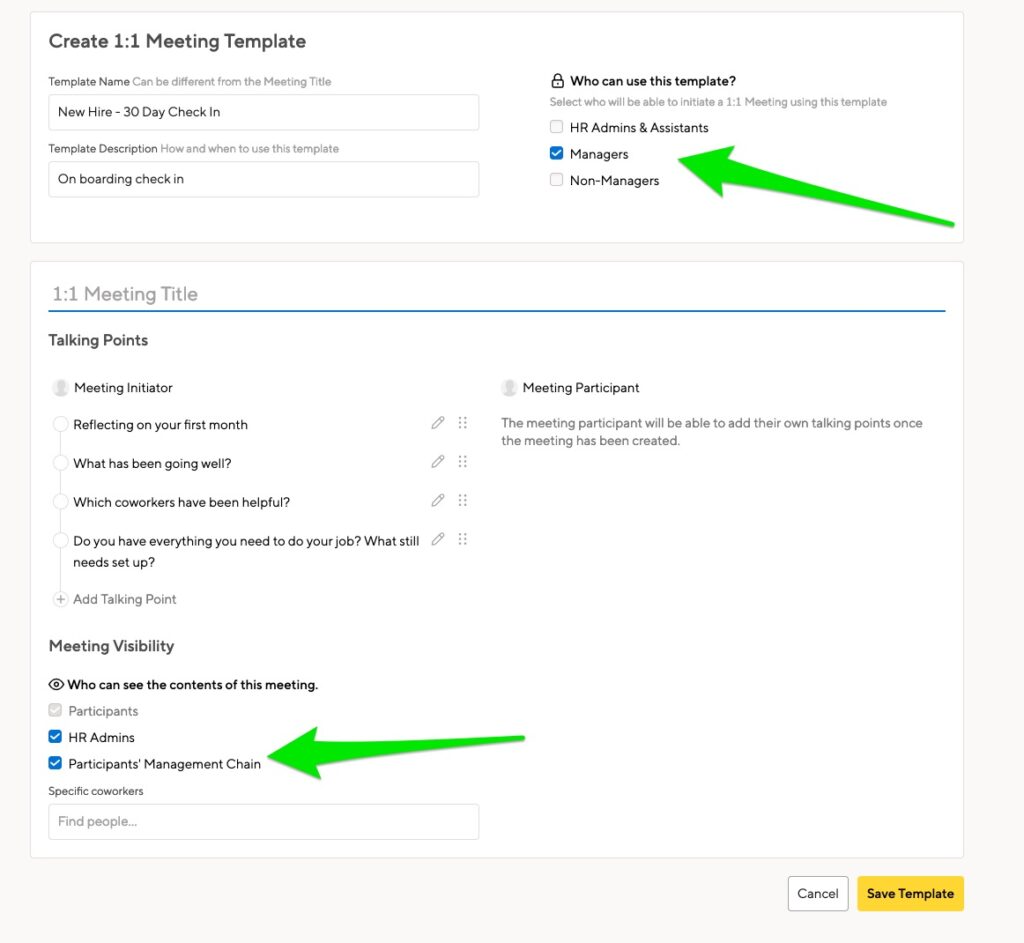 Regular growth check-ins for performance reviews
For companies that want to conduct more than one or two review sessions per year but find the review process too heavyweight, guided 1:1 Meetings can be used as a leaner version of the performance review.
As an HR Admin, you can create growth check-in templates that are visible to HR to increase the cadence of conversations around performance and development, without the hassle of a formalized review process.
This way, employees will be able to receive more timely feedback, and the annual performance review will become an overview of the conversations that already took place. Combined with our Helpful Resources sidebar, managers and employees can easily access and reflect on these conversations, helping them write better reviews.
You can also create a review follow-up template to help managers and employees address topics that came up during a performance review. Not only will this provide managers and employees with a formal opportunity to go over the review, but can also help set the stage for creating Objectives for the next quarter.
By making the growth check-in template visible to HR, you will be able to keep track of the conversations and address issues that come up in a timely manner — but stay out of the process when there is no need for action.
Objective and goal-setting
As an HR Admin, you can create objectives 1:1 Templates that address setting goals in the next quarter, so that teams will prioritize their objectives. (Please note it's not possible to create objectives directly from talking points at this time.)
By making the objectives 1:1 Templates visible to HR, you can ensure these important conversations are taking place.
Performance issues
Help managers steer conversations related to performance issues by setting up a 1:1 Meeting Template to include HR and/or the management chain on these conversations.
If you're setting up a template for managers, you can use private Talking Points to give them a roadmap for where the conversation should go.
It can be useful to include HR and/or the management chain into a tricky conversation, so you can gain insight into the meeting and respond to sensitive situations in a timely manner.
In the below example, we've created a performance conversation check-in to start a performance improvement plan. We're guiding the manager with 2 initial talking points that only the manager can see, and some further guiding points that are visible to the employee.
Learning development and career growth
Often times in 1:1 Meetings, managers and their reports can focus too much on weekly or monthly tasks instead of having discussions around development and long-tearm career goals.
As an HR Admin, you can create career development check-in templates to help ensure conversations around learning and development are happening at least once per quarter, or to your preferred cadence.
And more
Some of our customers encourage managers and employees to have several pulse meetings per year to revisit Objectives or promote a culture of upwards feedback. The ability to define templates with default Visibility Settings provides HR with oversight to ensure these valuable meetings are actually happening — without adding a heavy process.
Some of our customers encourage staff to have 6 pulse meetings per year during which objectives are revisited, some foster regular career goal checkins, and some would like to promote a culture of upwards feedback but without adding heavy process. The ability to define templates with default visibility options helps HR oversight to ensure these valuable meetings are actually happening, and that problems are addressed if they are encountered.