Dates and deadlines are set at the cycle level, and apply to every cycle participant.
Cycle Starts: the official day and time the cycle becomes available to employees.

If you're setting up a future cycle, you can have the kickoff email sent automatically.
Deadline for Reviewees: the last day for an employee to write and share their self-assessment. This date is shown to employees as the deadline on their to-do item and the review form.

Optional grace period: an optional extension for employees to grant more time, not shown as a date to employees directly
Deadline for Reviewers: the last day for a manager or primary reviewer to write and share the manager's assessment. This date is shown to managers on their to-do items and review form. 

Optional grace period: an optional extension period for managers that is not shown as a deadline to employees but extends the editing date
Everyone should sign by: the last day for employees and manager to sign reviews. This deadline is separated from the write and share dates – it's possible for an employee to sign after the write and share deadlines.
If you enable Calibration in your review cycle, you'll see more deadline options.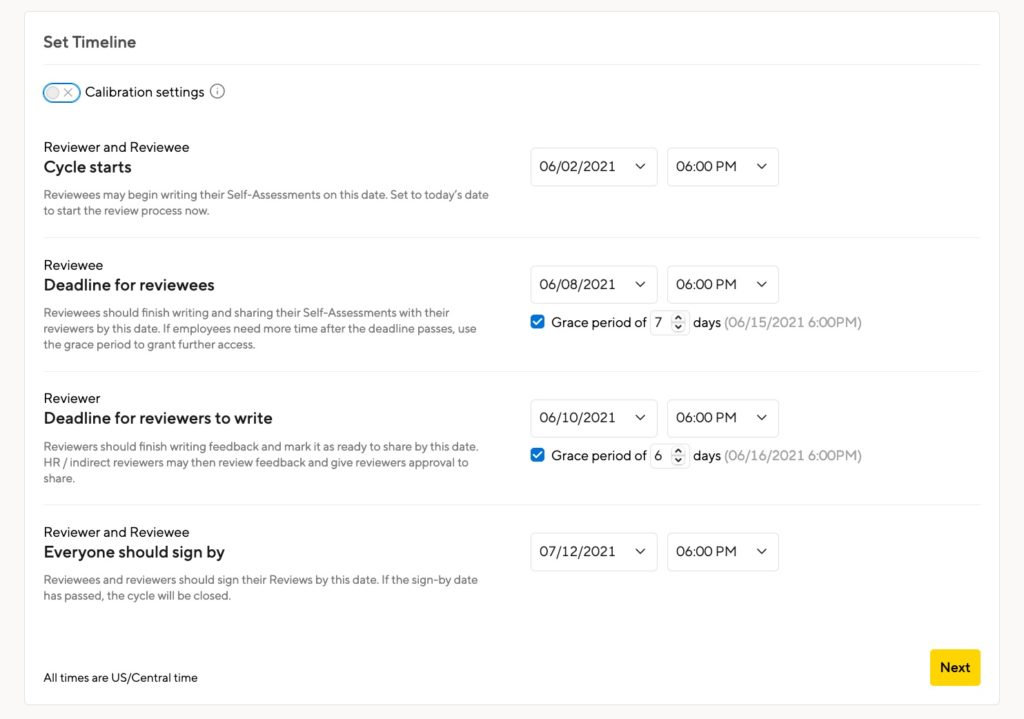 Extending cycle deadlines for individual participants
To extend the deadline for an individual participant, go to the cycle administration page, and click the action menu for that person.

You can extend the deadline for both parties.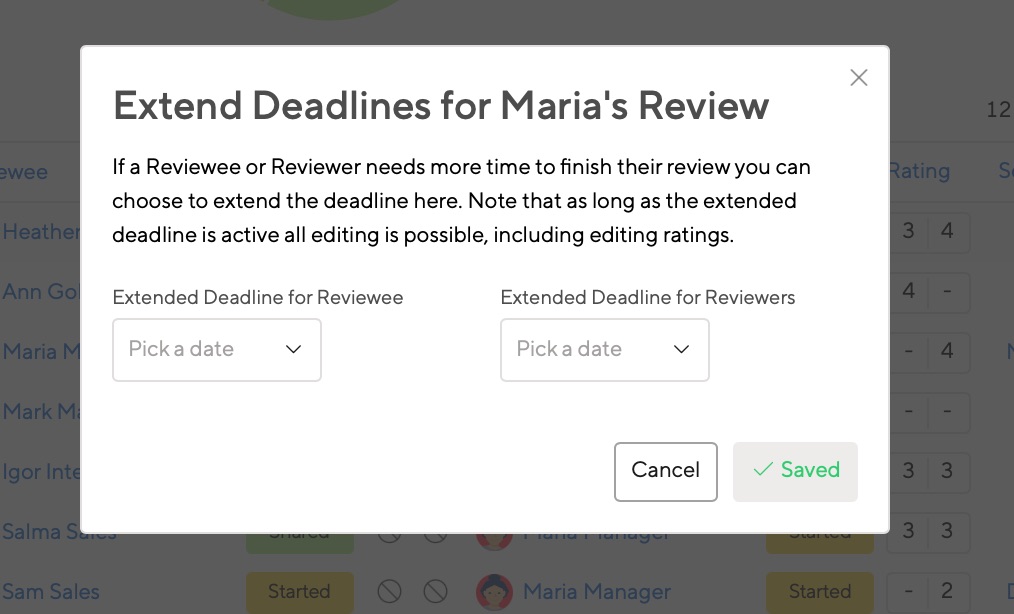 Extending this deadline allows for any type of action: writing, sharing, signing, and editing Overall Ratings.
The clock icon indicates that someone has an extended deadline. You'll also be able to use the individual nudge options, though the cycle-wide Nudge menu may be unavailable.

Extending deadlines in bulk
To extend deadlines for multiple people, click Bulk Extend Deadlines on the Admin menu.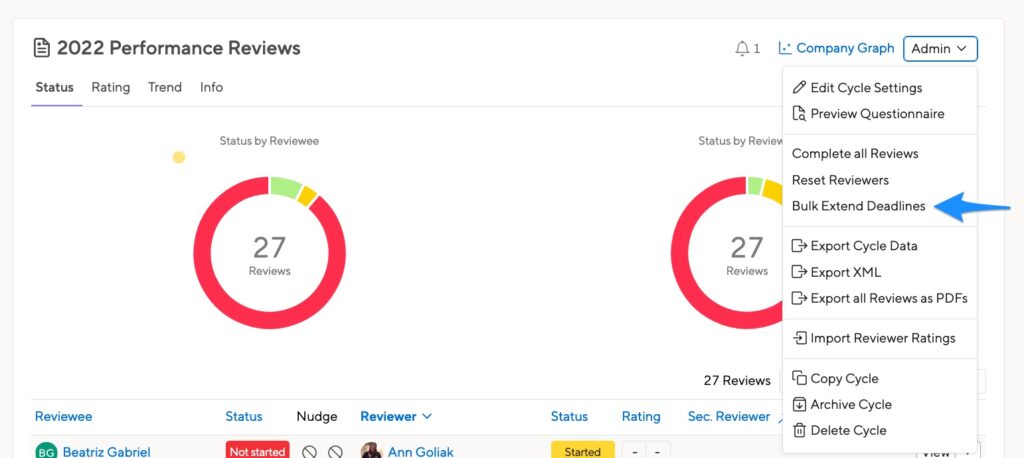 You see a list of cycle participants sorted by the main reviewer. You can resort this list by the reviewee, the department, or, using the Magic Column, by hiring date, team, location, or job title.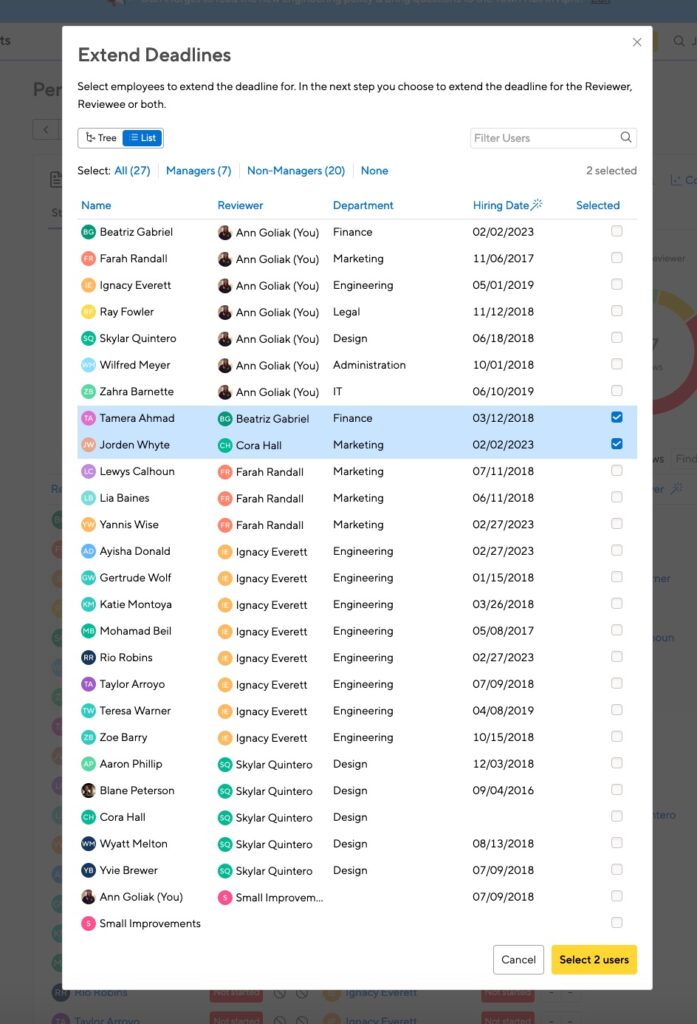 Check the appropriate participants, then click the 'Select users' button.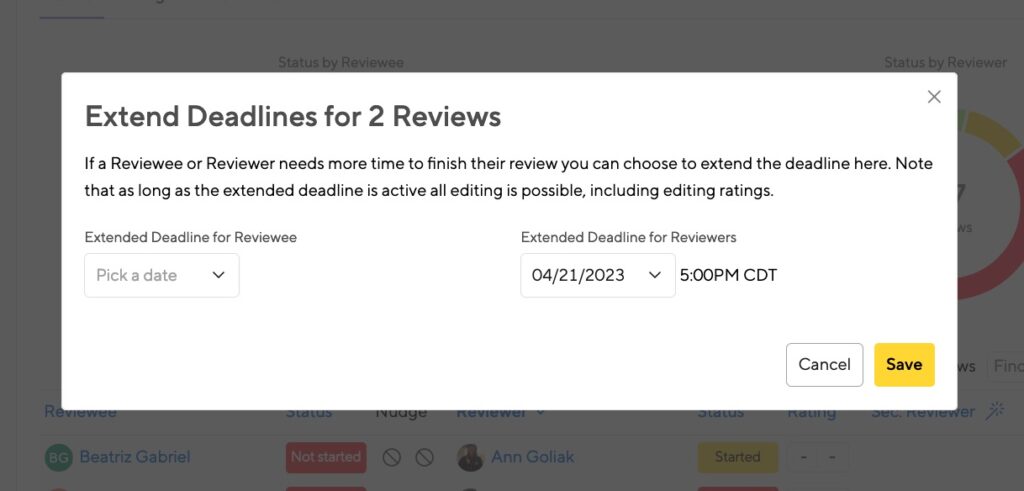 You'll be asked to assign a new due date. You can extend the deadlines for the reviewee, the reviewer, or both. Click Save, and you're done!
Extending cycle deadlines for the entire company
If you want to extend the deadlines for every cycle participant, click Edit Cycle Settings, scroll to the Timeline section, then click Edit.
You can adjust the dates to allow for further editing or sharing. This will be the Grace Period or the Deadline, depending on how your cycle is set up.
You may also need to extend the "Everyone should sign by" date if the date for that portion has already passed.