Dates and deadlines are set at the cycle level, and apply to every cycle participant.
Cycle Starts: the official day and time the cycle becomes available to employees.

If you're setting up a future cycle, you can have the kickoff email sent automatically.
Deadline for Reviewees: the last day for an employee to write and share their self-assessment. This date is shown to employees as the deadline on their to-do item and the review form. 

Optional grace period: an optional extension for employees to grant more time, not shown as a date to employees directly
Deadline for Reviewers: the last day for a manager or primary reviewer to write and share the manager's assessment. This date is shown to managers on their to-do items and review form. 

Optional grace period: an optional extension period for managers that is not shown as a deadline to employees but extends the editing date
Everyone should sign by: the last day for employees and manager to sign reviews. This deadline is separated from the write and share dates – it's possible for an employee to sign after the write and share deadlines. 
If you enable Calibration in your review cycle, you'll see more deadline options.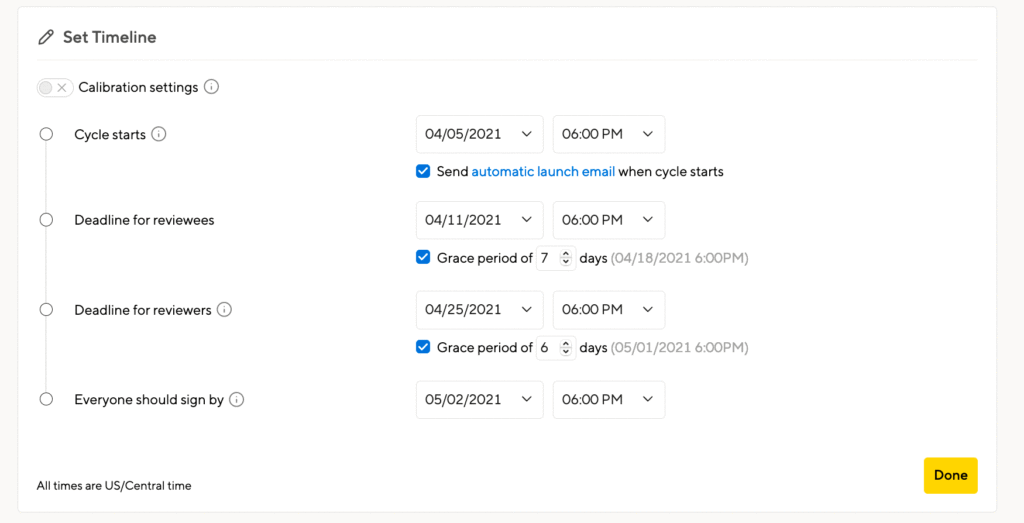 Reopening a performance review cycle
If someone has missed a deadline to share or sign a review, you can reopen the cycle by adjusting the Timeline settings.
Note that extending dates in a review cycle will allow everyone to edit, share or sign their reviews. Editing the timeline will not generate a notification, though, so you can communicate privately to those people who need access.
Click Edit Cycle Settings, scroll to the Timeline section, then click Edit.
You can adjust the dates to allow for further editing or sharing. This will be the Grace Period or the Deadline, depending on how your cycle is set up.
You may also need to extend the "Everyone should sign by" date if the date for that portion has already passed.